The moustache is a style that has sadly been relegated to antiquity: It is a quaint, often goofy relic that's looked upon with derision in the modern world, when it is looked upon at all. So of course, it's time for the insufferable hipsters to ironically bring it back. A moustache is supposed to be a courtesy; it's there to tell the world "there's something wrong with my face. Here's something else to look at, friend." But these days it's just telling the world "there's something wrong with my personality, look at me." If you're considering a moustache: Don't. It's been ruined. But real men are not dissuaded from anything, no matter how reasonable the argument, so you're probably still considering making the moustache leap -- not in spite of, but in fact because it is currently going down in flames. If that's the case, please consult this comprehensive guide to the modern moustache so you will be fully cognizant of the precise kind of dick you look like.
Thick, straightforward, matter-of-fact, the Chevron is a tapered face-wedge that spits in your fancy wine, knocks over your Tapas and makes sweet love to your wife while you cry into your Vichyssoise (missionary position only, Frenchy).
What You Think You Look Like:
A traditional symbol of sex and confidence, the Chevron-wearer is lean, serious, and absolutely incapable of putting up with bullshit. Bullshit to the Chevron-wielder is like lactose to an Asian; it simply will not be tolerated.
What It Really Looks Like: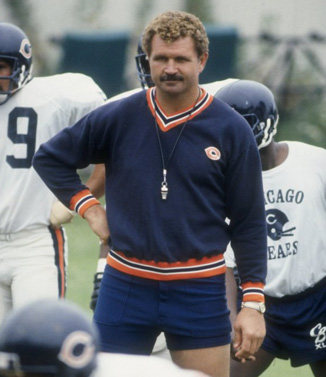 Fat, old, and swollen with beer-cheese soup, you insist you're "telling it like it is" at social gatherings, and are "renowned" for your brevity. In reality, you're just drunk and "remanded" into police custody. Also, we know you think you're rocking those boy-shorts, but it just looks like you somehow lost most of your pants on your way to the field. Possibly to a dog.
A U-shaped track of hair, the Horseshoe says a million different things in a million different languages, and all of them are "I'll light this fucking place on fire." The horseshoe is the staple of convicts, bikers, and general badasses with poor impulse control across the globe.
What You Think You Look Like:
You look like you've done time. And not pussy time, either: You didn't get a GED or any of that crap in the joint. No, you killed a man with a folded-in-half pudding-cup lid and shower-raped the
warden
.
What You Really Look Like:
You just don't know how to break the news to your father, but your facial hair does. Your face is playing a game of charades with the world, and its topic is "homosexual." And in this analogy, your face is really,
really
good at charades.