As a Cracked columnist, I often receive messages asking for help getting started with writing. A lot of folks ask me "what kind of people write for Cracked? Is this really a good way to start my writing career? Aren't all the Cracked writers just basement-dwelling freaks who watch too much SciFi Channel?" Well, to them I answer thusly: First, screw you; you sound like a dick. Second, if William Shakespeare were alive today, he would write for one site and one site only: Cracked.com. OK, he might
occasionally
put something up on
McSweeny's
, but just the real pretentious stuff. There's no question that our hallowed halls would be the preferred stomping grounds of The Great Bard, and here's why.
He Was A Critical Analyzer Of Pop Culture
Shakespeare's plays and poems are full of commentaries on what was going on in England at the time. When the Puritans started publicly complaining about his plays featuring love between men and young boys (who played the female roles) and arousing the audience to "retreat to secret conclaves and there play the Sodomite, or worse," Shakespeare responded by writing
Measure for Measure
, a play about a Puritanical Duke who tries to outlaw all sexual misconduct to stifle his own sick urges towards a nun. Kind of a "he who smelt it dealt it" response, but effective nonetheless.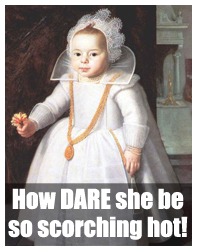 And not unfounded, especially when you consider the words of a Puritan of the time decrying pedophiles while at the same time giving a perfect impression of one:
"These pretty upstart youths profane the Lord's day by the lascivious writhing of their tender limbs and gorgeous decking of their apparel…"
Which, for the Elizabethan-challenged, roughly translates to:
"How dare these sexy children be so damned sexy, wiggling like that, it's…it's…I mean come on!"
Shakespeare also openly mocked celebrities of the day, and even included them as characters in his plays. For example, the Bishop of Westchester, featured in
King Henry VI, Part I
, is satirized for hypocritically making a fortune in prostitution while simultaneously seeking cures for his rampant and numerous venereal diseases. Well, not only was that a real guy, he was also the guy who
licensed Shakespeare's theater
, AKA Will's boss. Meaning the play's subtext basically reads "My boss has herpes. Ha! What a dick." So the next time you read a Dan O'Brien column about him taking a dump on Jack's daughter, recognize it for what it is: an august and thoughtful homage to The Bard.
Further Reading:
Shakespeare's Satire
, by Oscar James Campbell
He Worked In The Bad Part Of Town
Shakespeare worked primarily in two playhouses: The Rose and The Globe. The Rose was literally a brothel with a theater attached, and both places were situated in a nasty part of London called Bankside, Southwark. Southwark was known for two things: being south of Wark, and whorehouses.
And we're not talking about respectable whorehouses here, either; these were places with names like "Ye Olde Fuck Shack" and "Baldric's Palace of XXX Arse Drilling," where you could buy a quickie with a man, woman or child for less than the cost of the mercury treatment you'd use to try and rid yourself of the ensuing syphilis. There was even a whorehouse called "The Cardinal's Hat" (as in "what the head of a penis looks like") a mere block away from the Globe, where theatergoers could unwind during intermission by discussing the racy double entendre in the Second Act with the object of their boning. Excepting of course when their mouths were full. As for the "Bankside" part of the Globe's address, it referred to the bank of the Thames River. In those days, the Thames did double duty as London's water supply and main sewer line. Yes, the first-ever performance of
King Lear
was held in a room surrounded by diseased people fucking and the miasmic stench of human shit. Surrounded by the unregulated and unsanitized offal of humanity? Mere moments away from thousands of depraved sex acts? Hmm, what does that remind me of? Oh yeah, THE INTERNET.
Further Reading:
Elizabeth's London
, by Liza Picard