Sidekicks get a raw deal: always sidelined, ever-forgotten, and many of them are even replaceable. Seriously, Batman goes through Robins like rolls of toilet paper. They are often left out of the main events of the story, or expected to silently carry their burden while the lead takes all the credit. Which is a shame, really, because for every Watson who humbly plays beer-bitch to the much superior Holmes, there are other sidekicks who should clearly be the ones doing the keg stand. For instance ...
Silent Bob (Jay And Silent Bob)
The Weinstein Company
Jay may do all of the talking -- and I mean a lot of talking -- but that's about it. Apart from the occasional quip, Jay is a drug-dealing public nuisance, wandering aimlessly through life. So it's strange that Silent Bob, who is obviously intelligent and emotionally mature (and who can deport demons back to hell, apparently has Jedi powers, and knows what an apostle is), tags along like he deserves to be in the background.
The Weinstein Company
Although I've read some fanfics that suggest he likes the view.
In all of Kevin Smith's Jersey films (apart from Jersey Girl which, well, don't get me started), it is Silent Bob who comes in with timely advice or resolves the sometimes-corpse-fucking conflict that the main character is going through. Let's have a rundown:
Clerks: He shows Dante that he is actually in love with his current girlfriend, and should not go chasing the one that got away. Mallrats: He plays the tape that gets Brody's main love rival out of the picture and into a jail cell for pedophilia. Chasing Amy: He explains to Holden McNeil that he shouldn't try to meet the sexual standards of his previously-experimental girlfriend, and should be happy with what he has now. Dogma: He kills Azrael with Cardinal Glick's driver, allowing the apostle, the muse, the last scion, and yes, Jay, to save the Universe.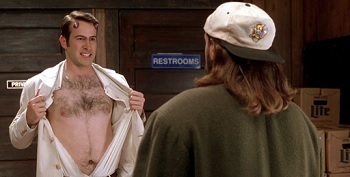 Lionsgate Films
Huh, he really does look at a surprising amount of shirtless dudes.
The only exception is Clerks 2. When asked what Dante and Randall should do about their predicament (Dante has found out he's about to father a child with his boss on the eve of leaving New Jersey forever with his girlfriend) he says, "I got nothin'." Oh. Well that just shits all over my theory.
Just kidding! Kevin Smith has admitted that in the original script, it was Silent Bob who suggested Dante and Randall reopen the Quick Stop as their own. He changed it at the suggestion of producer Scott Mosier, who rightly pointed out that it's always Silent Bob who solves this shit! Thanks for fucking up a streak, Scott.
Seriously, how is Silent Bob the sidekick here? He must have had some unimaginably dark childhood trauma which left him incapable of verbal communication, except with the people he has known the longest and feels most comfortable with. Yet he follows Jay to Shermer, Illinois (which doesn't exist) to try to get a supporting role in the documentary films he thought John Hughes used to make. He's dragged into stealing a laboratory's worth of animals to try to get Jay laid. He allows himself to be put into a slapstick comic book (and movie adaptation), even though he doesn't like the finished products. All this, despite the fact that he always wanted to be a dancer in Vegas.
Get Silent Bob some therapy, and he'll bitch-slap Jay and take the lead. I hereby propose a name change to "Silent Bob and Jay" (hey, if Paul McCartney can change it to McCartney-Lennon, I can have this).
Samwise Gamgee (Frodo And Sam)
New Line Cinema
Okay, come on now. Is there anyone who doubts who is the braver and better of the two? I'll answer it with one word: Shelob. Frodo has two Elvish weapons (the sword Sting and some kind of Holy Hand Grenade, both of which the giant spider is scared of), and what happens? He gets caught in a web, loses both his weapons, and barely makes it out of the cave alive, only to be stabbed, drugged, and shrink-wrapped for dinner.
Sam goes into that cave with nothing but a backpack and some lembas bread, and he ends up heavily wounding one of Tolkien's scariest creations. Not to mention the number of orcs in the tower that he takes out with a frying pan, or the fact that he will bum-rush a ranger with nothing but his fists and threaten to 'ave 'im (because h's are optional in 'obbiton).
New Line Cinema
'Ell yeah.
Frodo would have either fallen over his own disgusting hairy feet or exposed himself as the Ringbearer, both of which he does multiple times throughout the trilogy, usually at the same time. He may show resilience against the corrupting power of the ring (though not enough), but so does Sam. Sam carries it as though it's a normal ring, whereas Frodo, Boromir, Aragorn, and even Gandalf freak out when offered it. In Lothlorien, Lady Galadriel says, "There is still hope while the company is true." Who does she look at while she says that? I'll give you a clue: It's not Frodo. I'll give you another clue: It's totally Sam.
Sam does the majority of the heavy lifting -- literally. He's patient and understanding, can cook a great slap-up meal (though admittedly, his potato fetish is weird), and trim the verge even at night. He quite rightly sees Gollum for what he is: a split-personality villain. But when he overhears Gollum's plan to kill them both and take the ring and justifiably tries to cave the precious's head in with a rock, Frodo sides with his would-be murderer.
New Line Cinema
Here's Sam calculating how many times he should have curb-stomped this Larry-King's-testicle-looking motherfucker by now.
He may be called a "stupid fat hobbit," but he knows his master's every need, and is so committed to his promise to Gandalf to look after Frodo that the only way he could have a functioning marriage in the end was to have Frodo sent off to the Gray Havens. Because Sam is a whole person, whereas Frodo is just a big pair of eyes and a pair of clumsy feet that needs constant looking after.
If Sam had stumbled into Bilbo's house and found the ring instead, the quest would have gone much more smoothly. At least Sam can defend himself. Frodo trips over and drops his weapons all the goddamn time. In Moria, he just stands there and shits his pants when the cave troll comes a-calling. In the Prancing Pony, he drops the ring, accidentally putting it on and alerting the Ringwraiths to his location. On Weathertop, he stumbles over a pebble and drops Sting. And of course, the aforementioned Shelob's lair clusterfuck.
New Line Cinema
Not to mention the serious endgame choke.
When he found out Smeagol's treachery, and Frodo's complete disinterest in it, Sam should have caved both their heads in with that rock and got on with destroying the ring. A heart of gold and some kickass fighting skills? He'd have showed up to Sauron's eye and dick-thrusted that shit closed while screaming, "Fat Hobbit? More like eat my fat knobit!" Or something like that -- Sam would be much better at puns and catchphrases than me.