When you would awake from nightmares as a child, screaming into the darkness, the first thing your mother did to reassure you was tell you that there was no such thing as monsters. All the over the top, ridiculous evil beings weren't real, she'd say; the Boogeyman, Darth Vader and Dr. Doom are just stories, she'd say; reality isn't nearly that scary, she'd say. Man, what a lying bitch.
The Hanford Nuclear Reservation in Washington State was started as part of the Manhattan Project--a program dedicated to weaponizing atomic power. And Hanford was the most dangerous part of that project; Hanford was where they made their fuel. The site produced pretty much all the weapons grade plutonium for the U.S.; from the very first successful nuclear explosion, all the way to the atom bomb dropped on Nagasaki. But this isn't about the horrible atrocities they did on purpose; this is about the terrifying implications of the stuff they didn't do. For example: They didn't clean up very well. When mud dauber wasps moved into the long abandoned site back in 2003, they began to build their nests out of the still-contaminated mud and, rather than dying off like good little
attack insects, they survived... irradiated.
Like this, but probably firing nuclear blasts.
Jesus! There's not much in the natural world worse than wasps. It's pretty much just spiders and cancer below wasps on the scale of Asshole Life Forms... and we made them fucking atomic! Radioactive wasps are officially the scariest thing in nature. I'm not even sure how you top that theoretically. Laser snakes? Cancer-spiders? Luckily for humanity, the cleanup crew had to deduce all of this from the empty nests. They found no wasps, they reassured the press... ...because they've all moved on. Not died off, not self destructed, not swallowed by the righteous fist of a merciful God, they just... left. They abandoned their radioactive birthing grounds, deserted their nuclear hives and now there are nuclear wasps roaming the world, presumably robbing banks while screaming honey-based puns at Captain America.
Famous Villain Equivalent: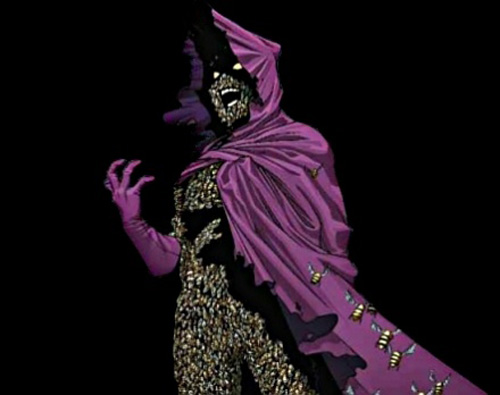 The Swarm is a Marvel villain comprised entirely of irradiated sentient bees, which is so close to reality that it's almost prophetic. And sure, by comic book standards the "bee guy" is a walking punchline, but that's only because you have Iron Man there with his wide-angle Repulsor Beams mocking him through the medium of energy blasts. In the real world, the best quip you're likely to come up with is a can of Raid and suicide pills.
Teenage Mutant Vampire Drama Queens
There is a real disease, birth defect or possibly gypsy curse out there right now that affects real people, and
causes them to cry real blood
. For real. That is a real thing. If it sounds familiar, it's because crying blood is an attribute of vampirism in most stories, as best recently evidenced by
True Blood
(a show which I feel confident in telling you, after watching every single episode, is a series entirely about Rogue's tits). Nobody can really explain why several of these people--all teenagers so far--suddenly started cropping up and spontaneously weeping blood, but leading experts theorize that Jesus got hammered and thought it might be funny to stigmatize the tear ducts of teenagers: Biology's Drama Queen.
Famous Villain Equivalent:
What, you thought I was going with Dracula? No. Le Chiffre is the perfect supervillain for this comparison. Think about it: The first time you saw Le Chiffre weep blood, you thought he was the best Bond villain ever. Then, a couple of hours later, you realize he didn't actually do a goddamn thing but take up space, cry and talk about himself. Sound familiar?