Before the late 1930s, the Earth's ionosphere kept all transmissions safely on our planet. However, when we developed radar and television carrier waves, they punched directly through the ionosphere. We are now beaming every damn thing we say or do into outer space as if the ionosphere wasn't even there. Thankfully, the theme of all science fiction ever is how much better we are than space. Let's take a look at some of the messages that I hope our alien neighbors have received.
The lack of barrier between us and space has created what I and probably future scientists call the "
Manimal
Sphere." This is the expanding area of the universe that Earth is filling with
Manimal
broadcasts.
Manimal
is a show about a man who can turn into animals that first aired in 1983, which means that right now there is a wall of half-man/half-animal 153,000,000,000,000 miles away from us in every direction, and it's traveling at the speed of light. If that didn't just explode your brain, tell your brain to quit being a fucking idiot and explode.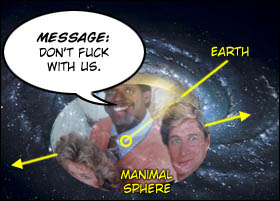 In the grand scheme of things, the "
Manimal
Sphere" isn't very big. In fact, using Christian math, that's more like 28-- barely the distance to Iowa. The point is, we'll be long dead before that hits any star systems with cable. But if you're a couple of outer space cow rapists and you fly through a
Manimal
brodcast wave, it's probably going to get you thinking.
Ignore how the Fresh Prince of Bel Air can beat your deadliest star pilots in combat, or how Judd Hirsch can outwit your mothership's software network. When you aliens are watching
Independence Day
, I hope what you really take away from it is this: Randy Quaid can kill you. That's not good news, space monsters. Randy Quaid isn't our best human. Here on Earth, we make Randy Quaid wear a helmet when he tries to think.
Of Mice and Men
was actually a Randy Quaid reality show. When a casting director can't get an orangutan for a part, they call Randy Quaid, and they have to use a special summoning horn to do it because Randy Quaid eats anything that rings. Randy Quaid once farted from April of 1991 to November of 1993. The point is, if he can stop your space invasion, you are fucked. Randy Quaid thinks anything with more than three letters is a suppository. I realize a lot of my intergalactic communication theories revolve around the idea that all aliens are like the ones in
Galaxy Quest
that can't tell the difference between fantasy and documentary. But let's not be stupid-- aliens have no idea what's going on. They come to a planet with Google, and their idea of research is jamming tubes up a hillbilly. They're either morons or
completely made up
. But like I said before, let's not be stupid.