In World of Warcraft (which I'm told is some sort of Lord of the Rings slash fiction emulator) when you advance in levels you earn the right to increasingly "epic" mounts – fantastic creatures that more fully reflect your character's grace, power and terror. And yet, this reward system is sorely lacking in real life: If I ever got a promotion, the best I could possibly hope for is a Nissan Sentra that smells slightly less like corpses than the current one. And really, fuck that noise! Epic mounts should not be reserved solely for fantasy life. So I've went out and found five real life epic mounts that put your pimped out Hyundai to shame.
The Sultan's Elephant
is the name of a performance art show formerly produced by the Royal de Luxe Theatre Company. It consisted of a lot more than just the titular elephant, but most of that stuff was French bullshit like "art" and "wonder." You, dear reader? You only need to know about that magnificent bastard of terror right up there: It's 40-feet tall, weighs 50-tons and requires 22 people to operate.
The idea was presumably conceived when somebody saw
Return of the King
and, upon noting the monstrous four-story elephant-like hell-beasts depicted therein, immediately thought, "I would like for that to be more unstoppable. If only it were also a robot!" Sure, it might seem a bit tacky and overwrought for a mere status symbol but think about it: What better way to show you've truly made it than employing a small army just to work the knee joints of the battleship-sized elephant you ride to work?
The
Fire Horse
is what U.K. artist/clown Paka calls his flagship kinetic sculpture. The term "kinetic sculpture," in case you're wondering, is just how dangerously insane, genius, clown robot-masters refer to all of their doomsday machines. I think it's for tax purposes. Paka built the first of many (oh shit, there's more than one!) fire horses from an electric wheelchair taken from his dead grandmother which he repurposed into a flame-shooting mechanical beast. Jesus, really? Was he
trying
to ensure it was haunted? That's not a sculpture, Paka, that's the kind of horrifying shit Clive Barker only admits to his psychiatrist. Here's a hint: It stopped being art somewhere around the time you taught it the meaning of "murder." According to Paka, the Fire Horse is a full-size replica, and capable of everything that a real horse is: It has complete range of movement, it whinnies, it rears, it even poops! Yes, he actually said that it poops and no, he doesn't say what; I'm forced to assume it's fear.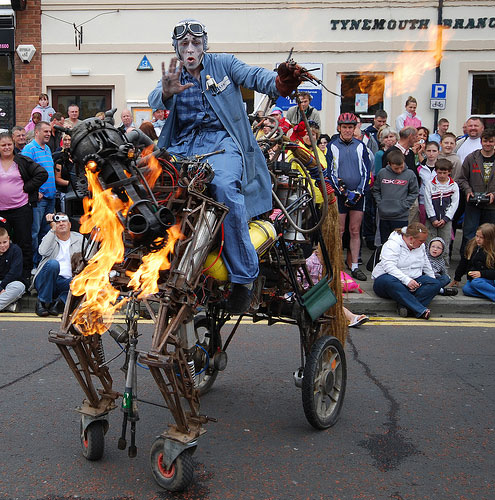 Yes, that definitely shits horror. At least I hope so, because I'm looking at it, and right now there is both shit and horror involved. If it's not the horse, then I need to get to the hospital. Even more worrisome, however: An earlier prototype of the Fire Horse was stolen from Paka's workshop, and is still unaccounted for to this day. So please, if your neighborhood is being terrorized by a madman on an equine steel inferno, call this insane British clown. It's probably possessed by the spirit of his furious crippled grandmother. It has sentimental value.