How are you planning to celebrate the holidays? Traditionally, with the tree in your living room, maniac lights on your porch, and gift-wrapped "please continue to not kill me" bribes to your dear ones and a Jesus feast? Or, with Fallout 4, a bottle of Scotch, and a total indifference to whatever madcap cultist antics the people around you are up to? Regardless of your answer, friend, I'm sorry to tell you: It's wrong. The real answer is: inadequately.
This time of year has a lot of history, and a lot of old, old customs that enable people who have heard about them to celebrate it much better than you do. As you'll be panicking through the last of your Christmas shopping, Bavarian highlanders will be gleefully firing handheld mortars at the sky to show it who's the boss, because fuck you, it's tradition.
So, why not apply a little tradition mix-and-match to your holidays this year to make them as cool as humanly possible? After all, there are people out there eschewing the old, boring all-American Christmas in favor of niche, yet awesome, things like ...
Sven Creutzmann/Mambo Photo/Getty Images
Every year, millions of people decorate their houses for the holidays with lights, creepy yard ornaments, and a healthy amount of competitive attitude. A good chunk of this is about that last part. Who among the decoration-prone hasn't known that tinge of schadenfreude when their asshole neighbor burns a fuse and is forced to settle on a couple of tinkling tinsel wreaths, or felt their heart sink in primal envy when the guy on the other side rolls out his neon-lit, 15-foot Santanator 5000?

Or, does this.
But, what if all that energy could be harnessed in a communal effort? What if all the eager holiday decorators in the neighborhood would join forces and build a huge-ass Christmas float with all the lights and frills their nearest Home Depot has in stock? And what if they would then unleash their natural competitiveness by taking that float against the ones made in other areas?
Such is the deal with central Cuba's Parrandas, a vaguely carnival-like holiday tradition where competing districts parade their elaborately constructed floats in what inevitably evolves into a friendly, joyful street party with fireworks and shit. They've been doing this since 18th century, and, over time, the inevitable competitive nature of the event has blown the floats from simple sticks-and-stones affairs to, well, this:
Wikipedia
That picture is from freaking 1940, by the way. Here's what the floats look like these days:
YouTube
Holy shit, look at that thing! That's what we should be doing with all this Christmas decoration bullshit. It's a competitive sport no matter what we do, so we might as well channel that energy in a positive way. Just turn it into an actual competition by joining forces with our neighbors -- yep, even that asshole Steve, you know he has the good orbital sander -- in a friendly joint effort to design-whoop the butts of those jerkoffs in the next borough, all followed up by a great party. Isn't that what Christmas is all about, really?
The Louisiana Levee Bonfires
flukesamed/iStock/Getty Images
As the police departments of many major cities are all too keen to point out, I'm a big proponent of fire as part of any and all holiday celebrations. Who isn't? Especially during the cold months, there's no one out there who doesn't enjoy a great big fire built specifically to celebrate the season, as well as handily mask your usual drunken hobo antics by rendering your unruly stature into a cool silhouette against its brightness. Everyone enjoys a bonfire. Unless you're a witch, I suppose. Are you a witch? And if you are, why are you celebrating Christmas in the first place? Is it like some hipster thing among witches? A hipster witch? That's awful. Get out.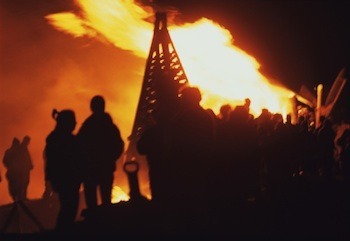 Piecework Productions/Photographer's Choice/Getty Images
"I mean, I know these things killed a bunch of my ancestors, but I enjoy them ironically."
Louisiana, on the other hand, doesn't mess around when it comes to Christmas and fire. As befits the state most likely to be haunted by Nicolas Cage's vengeful ghost, they approach the whole bonfire thing with an admirable amount of ridiculous overkill: On Christmas Eve, they light a whole damn river bank on fire. The bonfires on the levee are huge, 30-plus-foot pyramid log structures that the locals build all along the Great River Road between New Orleans and Baton Rouge, only to burn them all down simultaneously in a glorious mess of flaming Mississippi madness.
YouTube.com
Yes, of course, there are fireworks.
The tradition goes back for generations and may have originally had something to do with honoring harvests. These days, this fire road is built to act as a guiding light to Pere Noel, the Cajun Santa who must be a pretty hardcore entity for flying toward the man-made hell in order to throw presents at people. Some of the more ambitious builders embrace their pyromaniac tendencies by building their giant bonfires in the shape of houses and even river ships.

Or, optimistic allusions that the Saints could ever be on fire.
Oh, and did I mention there are more than 100 of these things?
So, yeah. This year, as you're panic-wrapping your improvised last-minute gifts, remember that a bunch of Cajuns spend the night gleefully roaring fire at the sky with triple-digit amounts of insanely huge log fires. After witnessing that, the actual Christmas must seem like a bland afterthought.
Tour Louisiana
"Tomorrow will burn. The world will burn."