With Better Call Saul's arrival, we're officially in the "Breaking Bad Televisual Universe" era. And every endlessly expanding canon is a good thing! Because if TV and film creators don't make awesome new space adventures and love stories, it's up to us T-shirt slingers to come up with something on our own. Of course, we love doing that anyway. That's why we've got these two new designs just for you and your wardrobe/home/duvet:
Any student of history and culture eventually learns two grand lessons: 1) we probably gained intelligence from a Kubrickian alien monolith (or "evolution" or "sex with Denisovans" or whatever), and 2) if you put a monkey in your movie it'll be a smash hit (just like in comics!)
Apes grace the entire sweep of cinema, because no one can deny the powerful appeal of a furry simian on a screen doing stuff. That's why this design brings together the famous apes of films past with the video-preserving tech that keeps them fresh and hyper-intelligent in our minds. Because even as Andy Serkis' incredible thespian chops replace the practice of casting actual animals/dudes in furry outfits, no one ever forgets their first practical, magical "HENDERSON."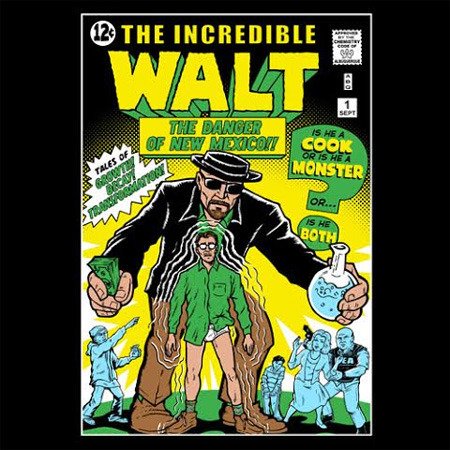 Art celebrating white-hot rage has been a hit since the premiere of Richard III (and probably even before that ... it's Monday and we're beat, but Google it if you care). Anger's transformative power pushes heroes and villains alike to heights they never thought they'd reach, even without gamma rays to help them along. This design from Redbubbler JKilpatrick gives Walter White's bad break the comic book scale it deserves and works the show's entire arc into one splashy cover. Whether you prefer a shirt or a print, this tale of scientist-gone-HAM belongs in your life.
Our Weekly Dose of Shirt Envy
Welp. We're jealous of the whole Internet again. We can't help it. No matter how many great shirts we roll out and how many additional designs our Society6 friends come up with, there are just so many awesome new tees to see every time we open our browser and get tab-happy. While we're wallowing in our own envy, go ahead and check out our five favorites right here:
5)

Available at Design By Humans
4)

Available at Threadless
3)

Available at NeatoShop
2)

Available at TeePublic
1)

Available at Society6
Recommended For Your Pleasure