We've talked before about how video games often botch movie adaptations, but most games usually don't fuck around with the ending. For example, there's no Citizen Kane game where you and Rosebud win the Winter Olympics. The Home Alone Nintendo game doesn't end with Macaulay Culkin warping to Hell and murdering Japanese Satan. But some movie-themed games have totally dropped the ball, and classic endings were reduced to borderline psychotic pixelated nonsense, such as ...
Jurassic Park

-- Dr. Grant Goes On A Murder Spree
Sega
The Movie:
If you ignore the three movies that came after, Jurassic Park ends pretty much perfectly -- our heroes fly into the sunset, too happy to be alive to consider how depressing their day jobs are going to be now that the focus of their research repeatedly tried to eat them.
But most importantly, the film's hero, Dr. Grant, has completed his character arc, realizing that it's more satisfying to protect children from harm than to pretend to disembowel them with fossils for his own demented amusement.
Universal Pictures
"I just mentally do that now."
The Game:
The video game Jurassic Park: Rampage Edition picks up immediately where the movie ends, but instead of heading back to the mainland to sleep or help Jeff Goldblum re-oil his chest, Grant catches sight of something unusual: The Costa Rican government is bombing the island, and a private army is looking to grab the remaining dino eggs.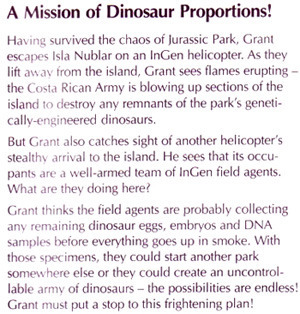 Sega

Naturally, Grant's response is to abandon his friends, head back to the island alone, and run around shooting everything in sight with shotguns.
Sega "Huh, maybe life doesn't find a way."
If seeing the lovable paleontologist blowing the faces off of random men isn't chilling enough, Grant even wields a fucking flamethrower, just to cement that this character has completely crossed over from contemplative scientist to bloodthirsty maniac.
Sega
A barbecue 65 million years in the making.
Sure, it's the Rampage Edition, but a lot of us kind of assumed it was going to be the dinosaurs doing the rampaging. The Super Nintendo game Jurassic Park 2: The Chaos Continues similarly sees Grant go back to the island, but this time alongside a trained mercenary named Michael Wolfskin, because why send two mercenaries when you can somehow magically transform a middle-aged academic into a serial killer?
Rambo

-- Rambo Is A Goddamn Wizard
Acclaim
The Movie:
Rambo's a tricky character to fashion a video game around. Sure, he engages in a lot of kickass action, but so many of his adventures are centered around his crippling PTSD. The climax of First Blood is a hug, for crying out loud. Rambo: First Blood Part II has more action, but Rambo's emotions still run high, and the movie's final moments find Rambo angrily confronting Murdock, a jerk-ass pencil-pushing bureaucrat.
TriStar Pictures
The II also stands for the deuce he drops in his underpants.
The Game:
We've talked before about how a recent video game turned the usually sympathetic Rambo into a cop-killing psychopath, but it turns out this wasn't the first Rambo game. Back in 1987, Nintendo took a whack at the story, and most of it is a pretty straightforward retelling of the movie.
Acclaim
The flamethrower guy was worth 1,000 points in the actual film.
And just like in the movie, Rambo meets Murdock -- but then he does something ... unusual. Presumably because the people at Nintendo watched only the first 20 minutes of Rambo, then gave up and just guessed how it ends, instead of threatening Murdock with a Bowie knife, Rambo inexplicably conjures a magic Japanese character, which turns Murdock into a frog.
Acclaim
"I learned this trick from a ninja."
Clearly, this means Rambo is some stripe of sorcerer, but why wait until now to bust out the black magic? Wouldn't it have saved some ammo if he could have instantly turned the entire Vietnamese army into his own personal Budweiser commercial?