Even in movies, creating a man-made cataclysm requires a shitload of time, money, and advanced planning. It's not the kind of thing you simply stumble into by accident. But we live in a Butterfly Effect universe of unintended consequences, and sometimes random people wind up doing the kind of damage that not even Blofeld could ever get past the planning stage.
A Geologist Researches Geothermal Energy, Creates An Earthquake Machine
Frederic Huber/Moment/Getty Images
Quick: What do Lex Luthor, Nikola Tesla, and Markus "They Called Me Crazy" Haering have in common? All of them have dabbled with the grandest supervillain device of them all: the earthquake machine. Wait, who the hell is Markus Haering? Oh, just a real-world Mole Man who managed to build that shit without even trying.
ristalsimon/iStock/Getty Images
"Mole Man" is the literal translation of his name from German.
In 2009, Haering -- a Swiss geologist -- set out to produce geothermal energy by boiling water on rocks three miles underground, then sending the superheated water up through a steam turbine. His goal was to be the first to produce commercial quantities of geothermal energy, enough to fill the electricity needs of 10,000 homes. His means to achieve this: a giant-ass drill. The result: Haering found himself in criminal court for causing a series of earthquakes.
Unfortunately for Markus, the site he had chosen for drilling was located directly over a fault line, which he managed to tickle to the effect of a series of quakes, the biggest of which hit magnitude 3.4. After $7.35 million in property damage and some visits from law enforcement officials (who were probably disappointed that Haering wasn't wearing a cape and reciting crazy monologue at them from atop his drill machine), our accidental affront to mankind found his ass in court.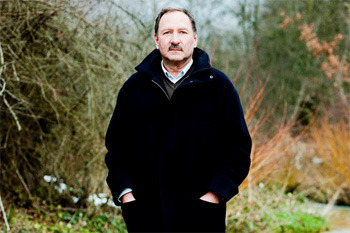 Stefan Bohrer/Tages Woche
"Seriously, don't you at least have a monocle or something? A white cat?"
Haering was acquitted on the grounds that he hadn't intended to try to destroy the town with his doomsday device, and had turned it off as soon as it became evident that shit was getting wrecked. So sure, he's not a supervillain in the eyes of the law, but his comments certainly indicate that this career direction might not be completely out of the question. Haering dismissed his quakes as "a learning process for everyone involved," and stated: "We don't get innovation for free. We have to work it out."
So, you know, expect Switzerland to disappear in a giant sinkhole by 2018.
A Man Mistakenly Hacks Into The French Fort Knox With His Skype Account
Manakin/iStock/Getty Images
As any Bond villain can tell you, gaining access to a nation's gold depository is a right bastard of a task. At the very least, you need a large private army, tanks of death gas, a squadron of supermodel-piloted planes, and decades of research into dick-murdering laser technology in case a special agent ambles along.
That is, unless you have a Skype connection.
Mario Tama/Getty Images News/Getty Images
"No, Mr. Bond, I expect you to dial."
In 2008, an unnamed Frenchman was dicking around with Skype, attempting to call premium-rate numbers for free. At some point during this clearly sophisticated operation, he dialed a random number, only to be greeted with eerie silence. Presumably because he was operating with an ordinary keyboard and didn't remember which numbers spell B-O-O-B-S, he reacted by punching in the first thing he could think of: 1-2-3-4-5-6.
And like that, he had hacked the Bank of fucking France. The ridiculously easy password had gotten him inside the secure phone system for their debt service department, soon triggering an alarm and shutting the entire bank's services down for two days.
RDA/Hulton Archive/Getty Images
Seven, counting France's five-day weekend.
The man still had no idea what he was doing, so he quit the call and went about his day. Meanwhile, the bank busied itself by pooping panic-bricks and launching an investigation into the devious hack. Luckily for them, the man hadn't made any attempt to conceal his identity, so the police managed to track him down ... two years later.
When the cops finally found the right guy, it immediately became evident that the criminal genius they had been tracking was in fact a random dude whose superior hacking tool was a Skype program on an old computer with the processing power of a shoe box. They still took him into custody out of principle, but was promptly acquitted. Sadly, the 10-minute "Really? Was that you fuckers' idea of a secure line?" rant the judge must have delivered to the bank's representatives upon the verdict has been lost to history.
Yves Talensac/Photononstop/Getty Images
"Sixty percent of it was just the words 'merde' and 'connard.'"
The Bank of France has presumably since changed all their passwords to something less obvious. Our guess is "password."