Sometimes truth is stranger than fiction. Unless you're living a boring truth or reading some strange fiction. But even stranger than when truth is stranger than fiction is when truth is exactly as strange as fiction, right down to the unfeasible little details that would make you roll your eyes and change the channel.
Man Gets Heart Transplanted from Suicide Victim, Commits Suicide ... Over the Same Woman
photographereddie/iStock/Getty Images
Thanks to horror movies, if we ever need a body part replaced and the only donor is a dead criminal, we'll learn to deal with life sans foot. Hey, it's better than kicking your loved ones to death while you're asleep. That's the alternative, because criminal body parts are always possessed in horror films. For instance, in John Carpenter's Body Bags, Mark Hamill is a baseball player who gets an eye transplant from a guy who used to kill women and have sex with their corpses. Naturally, he starts doing the exact same thing.
Showtime Networks
"Dude, I didn't possess your dick ..."
Pretty much every body part has received this treatment except for perhaps the peni- wait, nope, that movie exists as well (and yes, it's from the '70s).
The Real Version:
Apparently, Sonny Graham never saw those movies. Graham was a 50-something South Carolina businessman who needed a heart transplant, and while he didn't get it from an executed serial killer, the donor did experience a tragic and unnatural demise. The heart came from Terry Cottle, a 33-year-old man who shot himself in the head after his wife dumped him because he wasn't making enough money. You've probably guessed by now: A decade later, Graham ended up doing the same thing, using the same method.
Over the same woman.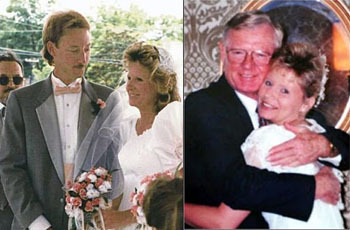 Tammy Cottle Erickson, Kevin Crozier
Or the woman was a serial killer, which is still a plot from some terrible movie.
After recovering from the transplant in 1995, Graham wrote a thank-you letter to the donor's widow, Cheryl Cottle, unaware that she and Terry were suicidally estranged at the time. One thing led to another, and a few years later Sonny and Cheryl were married. The couple seemed blissfully happy ... until they didn't. In 2008, amid serious financial and romantic troubles, Graham stepped into his backyard shed, put a shotgun to his throat, and pulled the trigger. That is not the act of an uncommitted or uncertain man. That is the hardest you can possibly kill yourself. So either the movies had it right all this time and body parts are haunted by their previous owners, or else the divorce laws in South Carolina really, really suck.
Prisoners Get the Chance to Reduce Their Sentence by Winning Fights
Al Jazeera
The "people forced to fight for their captors' amusement in order to earn their freedom" genre is a proud Hollywood tradition spanning from Arnold Schwarzenegger to Jennifer Lawrence. There's an even more specific subgenre that revolves around prison brawling, and it includes movies as varied as Undisputed, Undisputed II: Last Man Standing, and (of course) Undisputed III: Redemption (direct to DVD).
New Line Cinema
Only the second-most painful thing to happen to your genitals in prison.
The Real Version:
Felon, starring Val Kilmer, is a movie based on the infamous California State Prison in Corcoran, where the guards allegedly forced the inmates to fight for entertainment and placed bets on the victors. Last year, prison guards in Pennsylvania were busted for making inmates fight no-holds-barred battles for snacks; in Oklahoma, a detention center had fight clubs where guards took bets and arranged MMA confrontations.
Of course, these were all rogue actions taken by bored, underpaid corrections officers and not institutionalized prison brawl policies. That's the truly ridiculous part of the films: The prisoner fights were somehow official or mandatory, and that sort of dystopian madness just doesn't exist ... in America. Yet. For that we have to go to Thailand, home of the Prison Fight program.
Well, at least they're straightforward about it.
Reuters
Straight forward, down, down forward + punch.
Thai inmates can get time off their prison sentence if they first train and then agree to combat a foreign fighter in special muay thai matches. One inmate doing 50 years on drug charges says he already shaved off 10 with his fists.
Again, this isn't the work of some maverick prison warden: It's a publicly endorsed program that aims to focus the inmates on perfecting their bodies into muay thai killing machines, because there's no way that turning every ex-con in the country into Jean-Claude Van Damme could ever go wrong.