War is hell, but as we've demonstrated previously (twice, even), it's also often bizarre to look at. When you start sifting through rare photos of secret projects and behind-the-scenes shenanigans that didn't make into the history books, you get lots of pictures that just look downright fake. Like ...
Wiki
Before the invention of radar, naval battles were like a hardcore version of Marco Polo: Each side blindly lobbed shots at the other in hopes of connecting with something (yes, the board game Battleship was actually a fairly realistic representation). So ships of the early 20th century tried to make it even harder for their opponents by blending into the water with light-colored paint schemes. That is, until the British decided to try something a little ... different.
Wiki
"Now you too can experience the joys of sea sickness without having to set foot on a boat!"
Called "dazzle" camouflage, the idea was to cover the ships in psychedelic designs that made it damn nigh impossible for an enemy spotter to determine speed, distance, and type of craft when spying the ships from afar. Try to stare hard at one of these -- your brain will start to hurt:
Wiki
Getty via economist.com
It's like nautical Magic Eye.
The camouflage saw widespread use during World War I and (to a lesser degree) World War II, but it ultimately died out when the introduction of LSD allowed enemy spotters to operate on the same plane of consciousness as those creating the designs.
historybyzim.com
This is not a still from some old "What if the Nazis win the war?" propaganda film. That is a real, undoctored photo of an American classroom.
You see, Hitler ruined several perfectly good things forever -- tiny mustaches, the swastika as a good luck charm, and all hand signals that look anything like the "Heil Hitler" salute. But Hitler didn't invent any of them.
For instance, in 1892, Francis Bellamy decided that your average American just wasn't pissing quite enough red, white, and blue. To counter this, he came up with the Pledge of Allegiance, along with a nifty little hand gesture to do while taking the pledge.
Wiki
... one nation, indivisible, with liberty and justice for all."
That's right: For decades, children across America happily heiled the Stars 'n' Stripes in what was then known as the Bellamy salute. Then along came this big, bald bag of dicks: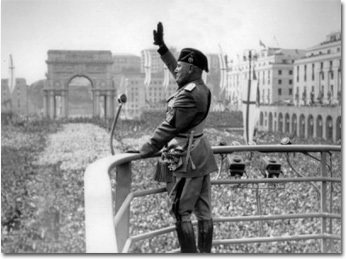 Wiki
His beret is actually covering up foreskin and giant pee hole.
That's Italian Fascist leader Benito Mussolini. When he came to power, he resurrected the so-called Roman salute, and Hitler thought that shit looked so badass that he later adopted it as his own Nazi salute. This caused an obvious conflict when America entered World War II -- we couldn't very well have born-and-bred American kids doing the same salute as the Hitler Youth, and Nazis were notoriously ignorant of the concept of dibs. So during the war, Roosevelt signed off on a new salute proposed by Congress, and placing the right hand over the heart narrowly beat out flying the double bird in Germany's general direction.