You can criticize Hollywood for their often glaring inaccuracies or their attempts to cast dead actors, but the very existence of deleted scenes proves that they are capable of reining things in and making good decisions. Still, you have to wonder why so much money and time was spent filming some scenes that remain utterly baffling, and would have fucked up the rest of the movie had they been left in. Scenes like ...
Nothing can fuck up Cracked's new Adventures in Jedi School mini-series.
Terminator 3: Rise Of The Machines

-- Schwarzenegger the Southern Sergeant
Say what you will about Terminator 3: Rise of the Machines, but it grossed over $400 million worldwide, and it knew exactly what kind of movie it was -- a popcorn blockbuster. However, if the following scene had gotten through the edit, it could have turned Rise of the Machines from a pretty average action film into a pretty laughable screwball comedy.
The Deleted Scene:
The scene shows a boardroom full of military personnel and Cyber Research Systems executives watching a promotional video announcing their latest achievements in killer robot technology.

"We calculate its odds of destroying the entire human race at less than 40 percent.
Which makes it much safer than Project Sarandon."
We learn that these new robots will be serving on the frontlines on the battlefield. We also learn why the body design of the Terminator robots are based on Arnold Schwarzenegger. According to the video, Chief Master Sergeant William Candy (Schwarzenegger) has had such an impressive military career that they've decided to model the Terminator robots after him.

"Why does a robot need to be huge? Wouldn't basing it off of a little guy be cheaper?"
But when he opens his mouth, we realize he's not the emotionless, hardcore, aggressively Austrian Arnold we've all come to know and tolerate -- his voice has been overdubbed by that of a giddy, excitable Southern goofball. Grinning like an idiot, Chief Master Sergeant Candy is all "Howdy" and "Shucks," like the biggest, dumbest cousin of Cletus the Slack-Jawed Yokel. The voice is ridiculous, the dubbing job is jarring and unsettling and the whole concept of the scene is utterly pointless.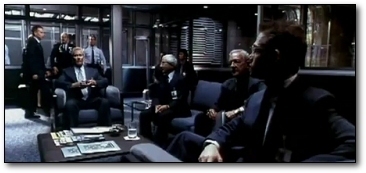 "The Chairman of the Joint Chiefs has a muscle fetish and wants an easy lay. It's our job to hook him up."
Obviously the filmmakers need to explain why Terminators don't sound like the Rich Texan from The Simpsons, so one of the executives says he doesn't like the accent. Then the man in the screenshot below turns and, in an aggressively Austrian accent, says, "We can fix it."

Also, he looks sort of like Arnold, too, for some reason.
Get it? The idea is that they liked the body of Arnold, but he had a ridiculous Southern accent, so they replaced it with the voice of some unnaturally deep-voiced scientist! That's exactly the kind of wacky comedy you crave in a movie about time-traveling robot monsters.

Why is he on that treadmill? What new, useful data could that possibly provide robot scientists?
Why It Would Have Ruined the Movie
This scene, trying to explain why all the Terminators look like Arnie, is bewildering for so many reasons, and not just because it was a question that literally no one was ever asking at any time. We've accepted the fact that Terminators have to be naked when they go back in time because clothes can't time travel, or whatever, we're already on board with your logic at its most bullshit-tastic; you don't need to explain anything to us.

Sure. The robots have to be naked and covered in skin to travel through time. That's perfectly logical.
But since you did, you've only raised more questions. Why would humans have been developing the Terminators when, in The Terminator, Kyle Reese said that it was the robots who actually designed and built them as a way to infiltrate the humans? Why, about 20 years after crushing the humans, would Skynet honor the inferior humans' choice of face when it came time to build the Terminators? Are we assuming the deep-voiced man with the Austrian accent recorded his voice for the project before Skynet became self-aware and gunned him down?

We're going to go with "no."
It took a decent stretch of the imagination to enjoy the believability of Rise of the Machines in parts, but something tells us this scene would have gone a little too far into the absurd.
Who Framed Roger Rabbit

-- Pig-Faced Nightmare Fuel
You mainly remember Who Framed Roger Rabbit for two reasons -- it was the first time you realized a cartoon could give you a tiny boner, and for Christopher Lloyd's pants-shittingly nightmarish reveal at the end. But an arguably more disturbing scene was cut.
The Deleted Scene:
After Eddie (Bob Hoskins), who is trying to clear the titular Roger Rabbit's name, is caught snooping around Jessica Rabbit's changing room and accused of being a panty thief, Judge Doom has him kidnapped and sent off to Toontown, which terrifies Eddie.

You can tell he just pooped by the look on his face.
We don't know what exactly goes on in Toontown, just that when Eddie is released the next day, he has the head of a Toon pig covering his own. How the hell Toons have the ability to create their own Toons and attach them to humans is beyond us. All we know is that the result is pretty alarming.

"It's like Porky Pig plus the Predator plus you guys I just took a lot of acid!"
He tugs and pulls at it to no avail, then runs home and does what any sane man who has just had a Toon animal's head attached to his body by a group of anthropomorphic mobster weasels would do and showers in fucking turpentine.

Don't try this at home. Unless you have to off a psychotic cartoon character.
As he does so, the head of the Toon pig starts to break apart and come away from Eddie's face.
Thankfully we don't see that, as it's silhouetted behind the shower curtain, but we do see the horrifying aftermath as the bits of terrified fleshy swine Toon get washed down the drain.

"GAAAH I can see Bob Hoskins' junk! Also, my face!"
Why It Would Have Ruined the Movie:
Remember, Roger Rabbit is only effective as a movie if the audience feels for the Toons -- if we accept the fact that Toons are capable of having the same kinds of emotions and personalities as humans. They have their own set of rules and can take a good beating, sure, but otherwise they can feel sad and scared, and they can certainly feel pain. So seeing the obliterated remains of a still-living Toon pig face being washed away in the shower by an albeit reluctant advocate of Toon rights doesn't exactly make for a fun family night in. The protagonist of a movie isn't supposed to start killing off the people he is trying to protect, without even so much as an afterthought.

Eddie "Valiant" our collective ass.