Welcome to the fifth installment in our never-ending quest to bring you the craziest, realest images on the web (see Part One, Part Two, Part Three and Part Four).
We know some of you folks out there are going to scream "Fake" no matter what anyway, but we figured we'd stress one more time that these images are, unfortunately, completely real.
On the Set of

2 Ark, 2 Furious: Noah's Revenge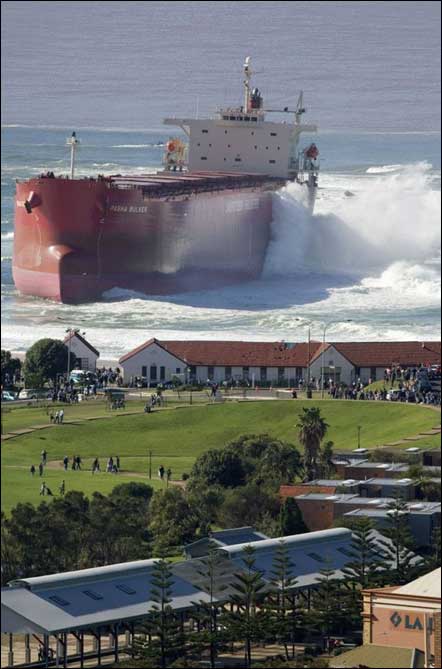 Everyone's reaction to this one can be summed up as, "What's the big deal? It's just two pics, one of a giant oil tanker and one of a peaceful little town--OH HOLY FUCK THOSE PEOPLE ARE ABOUT TO BE CRUSHED."
That is in fact one photo, of the The Pasha Bulker, a ship that famously ran aground in 2007 within spitting distance of that little Australian community there. The accident was due to bad weather while the captain was "eating breakfast." Apparently it became quite a tourist attraction, with people traveling from all over to see the massive stuck ship and perhaps hoping it was about to spill several million gallons of Fosters.
It's the Tasmanian Devil, Get in the Car
This spontaneous tornado photo looks like the kind of CGI you see in made-for-TV movies. But if it's fake, then National Geographic is lying to us. They say it's a 4,000-foot tall twister in Kansas. We think it looks like that bank of clouds ate a bit of bad Mexican last night. In which case, we're really glad not to be that Weather Tracker guy. Cracked meteorology tip: When you're within sighting distance of a bout of meteorological diarrhea, it's good not to wear your Sunday Best.