The truth is like Silly Putty: you can stretch it, mold it and use it to destroy someone's life.
Just ask anyone who's ever run a nasty smear campaign; a good, juicy lie or half-truth about someone can not only follow them to the grave, but can echo down through history long after.
Just look at how the following "historical facts"--all complete bullshit--have continued to show up in print for centuries after the subject has passed away.
Napoleon Was Really, Really Short
Quick, let's do word association. When we say "Napoleon" you say the first word that comes to mind.
About 20 percent of you just said, "French!" and the other 80 percent said, "short!"
Yes, in a world where our hazy history education won't let most of us quote even five facts about the guy, what we all know is that he was a tiny, tiny little man.
Now, it's true Bonaparte didn't tower over anyone. For instance, he was shorter than the Imperial Guards he was often seen with (who had a height requirement, since like all such guards through history part of their job was to look intimidating).
But most agree that Bonaparte was almost 5' 7", which was in fact just above average for the early 19th century (and wouldn't exactly make him a freak even now).
The French, however, used a slightly different system that listed the emperor at 5'2". And that appears to be the source of the whole "Napoleon as midget" image. When word got back to England that the terror of France was only a tick taller than five baguettes, the British propaganda machine had a field day. After all, it's much easier to win a battle when you imagine the other guy's Marty McFly and you're Biff Tannen.

"Voulez-vous make like a tree and get outta here?"
As we'll see often on this list, if you repeat a lie often enough, it eventually becomes truth. Fast forward 200 years and a man who at worst was a few inches shorter than average, and at best was exactly as tall any random dude at the time, is portrayed as a laughable cartoonish freak of a man.
The lesson? If you're going to be a world leader, surround yourself with shorter people.
J. Edgar Hoover was a Transvestite
John Edgar Hoover directed the FBI from 1924 to 1972, and based on anything you read about him today, he spent that entire time wearing frilly ladies' undergarments. At this point it's almost as common as the "Napoleon was midget" thing.
Why? Well, as the head of the nation's largest crime-fighting bureaucracy, Hoover spent his days single, secret-filled and surrounded by lawmen. Hoover's acquaintanceship with agents was beyond professional--he dined with feds, went out to nightclubs with feds and even holidayed with feds. And a the time these were all dudes.
This led to gossip that Hoover was gay, which is a possibility historians have yet to reach consensus on. Hoover's raging homophobia didn't help his case (he attempted to out Eleanor Roosevelt and presidential candidate Adlai Stevenson) and made him some enemies, most notably openly-gay Southern playwright Truman Capote.
It was in the early 60s when Susan Rosenstiel, an ex-wife of an alleged mobster, claimed she had seen Hoover at gay orgies, bewigged and bedazzling. No one took Rosenstiel seriously, the least of all Capote. In fact, he found her story so fucking hilarious he told everyone within earshot.
How did Capote get away with it? Well, he was famous and consorted with the movers and shakers of the day. When asked whether he believed the rumors about Hoover's transvestite tendencies, Capote pithily replied, "Who cares?" This is easily the most gangster outlook one can have when casually annihilating another man's reputation.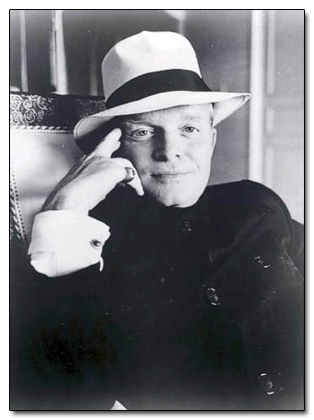 O.G. with pimp hat.
But the image of the pudgy tough-guy Hoover prancing around in nothing but see-through panties and a feather boa was too ironic, and nightmarish, for the nation to ignore. As usual, when the smear is more hilarious than the truth, we go with the smear.
But it could have been worse, when you consider...