If you want to know how bad the economy is, look no further than your nearest toy store. Where kids used to dream of becoming astronauts or war heroes, the toy industry is now working hard to massively lower their expectations for the future.
These very real toys seem to exist only to let your kid know they're going to be wrist deep in shit for a long, long time, so get used to it now when it's colorful and made of plastic.
McDonald's Drive-Thru Food Cart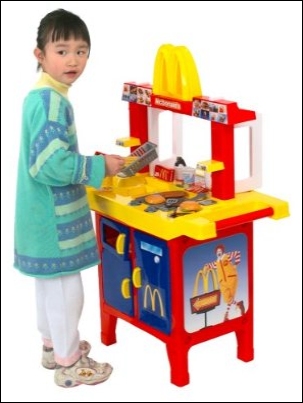 A whole lot of you reading this worked at a McDonald's at some point in your life, and most of you likely consider that the lowest point of your existence. There are guys who have shrugged off long prison sentences who shudder when they remember their long shifts at the Mickey D's french fry station. So of course they made a toy to simulate the experience.
Yes, before you can say, "I asked for no pickles" your child will be engrossed in the exciting world of moving slowly and doing things incorrectly. Seriously, what's the idea here? To convince a generation that this job is an awesome, wondrous way to spend your formative years? Nice try there, McDonald's, but you already play a crucial role in our workforce: scaring teenagers into getting a degree.
Accessories That Should Be Sold Separately:
GED application
Tube of Clearasil
Permanent spray-on stale grease odor
Scan-It Operation Checkpoint Toy X-Ray
The fantastic thing about this airport security screener toy is the way in which it carefully combines the tendency to suspect everyone around you of being evil with the passive quality of sitting on your ass and watching a screen. It's what has made the show 24 so popular.
The most enduring lesson provided by this patriotic toy is that everyone is a suspect and we need to keep our country safe. Or maybe the lesson is just that a life spent looking at X-rays of other people's Bermuda shorts and travel-sized dildos is not a life wasted.
Accessories That Should Be Sold Separately:
Body search wand
Rubber gloves
"These Colors Don't Run" temporary tattoos