During the summer, damn near every band that's ever sold a song on iTunes hits the road, jetting from town to town to play live shows for throngs of adoring fans. Maybe you'll go to some of these shows. When you do, these people will be there to completely ruin shit for you.
In her natural state, she is a blur of flying dreadlocks and sallow Caucasian skin. At rest, she usually takes the form of a hairy-pitted woman who inexplicably turns up at any and every type of musical event on earth. Do organic food slurping, sandal wearing hippies really listen to Lil' Wayne? Probably not. But her long strange trip has led her here, and she's going to make the most jamband-tastic time out of it that she can.
While everyone around her alternates between enjoying the show and getting the fuck out of her way, this bundle of ginseng and scalp lice is dancing around like an ancient shaman trying to summon rain to save this year's harvest. And that's fine, provided you're at some sort of outdoor festival where there is ample grazing room. But when you're packed like sardines in the lower bowl of an arena, her arm waving, 360-degree spinning antics grow old really fast.
To add to the misery, it's all but guaranteed that her constant flailing will be performed while chain smoking American Spirits, leaving you to spend the evening thinking less about the show and more about how to ensure you escape without a third-degree burn to the forehead.
What They Think This Says About Them:
"I'm a free spirit. Sometimes the music just speaks to my soul and moves me, albeit in a dorky, awkward fashion."
What It Really Says About Them:
"The stench of patchouli emanating from my nether regions could kill a small village."
How or why the hater ended up sitting near you is never immediately clear. Maybe their significant other insisted on dragging them along to see a band they hate. Maybe they just like paying eight dollars for beer. Whatever the case, they are here now and they can't believe anybody listens to this shit.
No matter how exuberant the crowd reaction, no matter how beloved the song may be, the hater is unwavering in their dedication to annoying everyone around them by hurling boos and slurs in the direction of the band on stage. Approximately three songs into the set, your ability to concentrate on the show you paid $45 to see ($106 after convenience fees) will be replaced with fantasies of fashioning a shiv out of the plastic spoon that inexplicably came with your nachos and stabbing them in the kidney.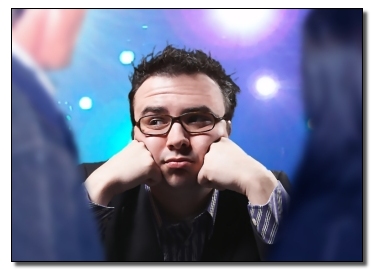 What They Think This Says About Them:
"My taste in music is beyond compare. I know good music and this isn't it. You're all a bunch of idiots for listening to this stuff. Nickelback rules."
What It Really Says About Them:
"I'm too much of a pussy-whipped nancy boy to even consider saying no when my girlfriend asked if I wanted to go see John Mayer. Instead, I will express my disappointment in myself by way of a rampant display of fuckstickery."