The universe is full of weird substances like liquid metal and whatever preservative keeps Larry King alive. But mankind isn't happy to accept the weirdness of nature when we can create our own abominations of science that, due to the miracle of technology, spit in nature's face and call it retarded.
That's why we came up with...
What do you get when you suspend nanoparticles of iron compounds in a colloidal solution of water, oil and a surfactant? Did you guess Zima? The real answer is ferrofluids, though you should be proud if you just knew what "surfactant" was.
A ferrofluid is a liquid that reacts to magnetic fields in trippy ways that make you think that science is both magical and potentially evil. They have multiple real world applications, many which are pretty badass, and none of which you will care about after seeing this:
Tell us that didn't look like the birth of the most sinister dildo ever.
What happens is that when a magnetic field is applied to the fluid, the particles of iron compound inside align to it. Once that happens, the fluid becomes a fluid-solid. That's right, ferrofluids are first generation T-1000s, only metallic black and thus 10 times as badass.
What the Hell is it Used For?
Ferrofluids have a lot of pretty mundane uses, from lubricating and protecting hard drives to providing heat conduction in speakers, but their primary use is in looking cool.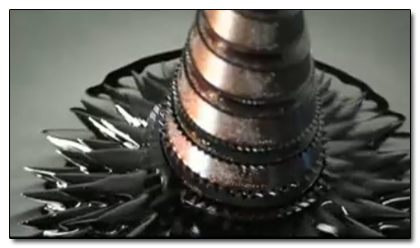 The ability to become solid or liquid with the application of a magnetic field also makes them perfect for computer assisted shock absorbers in Ferraris; NASA uses them for high-tech flight altitude assistance, and like a gyroscope in spacecraft. The Air Force uses their magnetic field absorbing properties to make aircraft invisible to radar and we like to think someday they'll be able to make super hot, futuristic robot dominatrices that we can store in a cup in the pantry when not in use.
It's not the brick in the picture up there, it's the stuff under the brick. Aerogel, also called "Frozen Smoke," is very much like Ben Affleck's appeal: practically non-existent, but still there somehow. It is 99 percent air, with the other percent being silicon dioxide or fudge or whatever, and looks like fucking magic. Its structure makes it a piss-poor conductor and thus makes it an excellent insulator. In other words, aerogel is also fireproof.
In addition to being awesomely heat resistant, aerogel can also hold insane amounts of weight proportionate to the size of the aerogel being used, up to 4000 times, which shames regular air something fierce. To put it in totally nonsensical terms, if air had a party, while aerogel was busy getting hummers in the back, loser oxygen would be making sure everyone was using a coaster. That's how much cooler aerogel is. Fuck you, oxygen.
What the Hell is it Used For?
The suits astronauts use are filled with it to keep the cold of space from, you know, killing them. More transparent aerogels are being made to insulate windows, or the world's lightest ping-pong ball, as you can see in this clip at 0:36:
Every once in a while, science rules.