We previously chronicled how in the Internet age, the whole sex toy thing has gotten completely, terrifyingly out of hand.
Well, there's a whole new generation of devices that will get your blood pumping for all the wrong reasons. So have your nightmares welcome their new guests...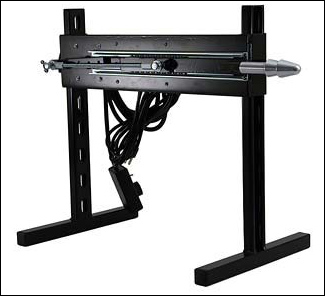 Admit it, every time you visit your local sex store you look up and down the aisles and are secretly ashamed and disgusted that there's not a single toy that can also double as some kind of medieval siege weapon.
Lucky for you, some perverse engineers thought the same thing and nipped that problem in the bud. As with all of the devices on this list, we'll leave it to your imagination as to what the thing looks like in use.
Fun Website Quote
"This machine is so smooth, quiet and easy to use it allows you to focus more on your pleasure and less on your mechanical abilities."
Ah, from medieval weapon to medieval torture device. If you're into that sort of thing, or if you're conducting your own inquisition, then this tiny Iron Maiden for a schlong may be right up your alley.
For those of us who prefer not to have metal spikes jammed in our units, it probably keeps a mean grip on hot dogs when you're cooking over an open fire.
Fun Website Quote
"Imagine the look on your boy toy's face when he wants to feel that pleasure but something else is keeping him from fully realizing his arousal."