Quick: what's the dumbest way a person can make a living?
Personal shopper? Doggie day care? Reality show star?
Well, we can top all of those. There are people out there making money--and we're talking real money--doing the type of things you and your friends do in moments of extreme boredom and/or drunkenness. Such as...
Beer Pong Pros Ron Hamilton and Michael Popielarski
So you failed an exam because you stayed up the night before playing drinking games. Well, you better shape up, mister! Nobody is going to pay you to play beer pong!
Uh, don't tell that to Beer Pong champs Ron Hamilton and Michael Popielarski.
Beer pong is also known as Beirut, depending on where you're from (although what ping pong balls, plastic cups and beer has to do with the capital of Lebanon is anybody's guess. We assume it has to do with getting bombed. Repeatedly).

I'll have another!
The rules are simple: toss a ping pong ball into a group of beer-filled cups at the other end of the table, and your opponent has to drink the beer each time you make it (along with all of your unfinished beers if you hit all of his). It seems like the kind of game that's hard to get good at, since most people play to lose. But Hamilton and Popielarski got good at it, and took home $50,000 at the World Series of Beer Pong IV.
The win not only earned them name recognition in the annals of Beer Pong, they also made headlines across the world, including a mention on ESPN (and unlike most of the athletes that make headlines, they were paid to get drunk).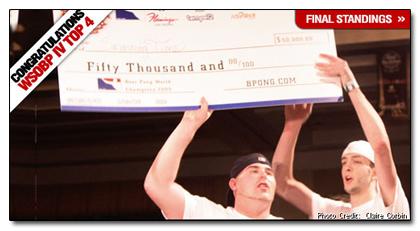 The two claim they plan to use the cash to pay off some debt and a chunk of their parents' mortgage with the winnings, but we suspect most of it went to buy a keg the size of a grain silo.
Rock, Paper, Scissors Champ Sean Sears
Daily we are confronted by decisions, some harder than others: Coffee or tea? Paper or plastic? Shallow grave or densely forested area? Perhaps no game teaches us the futility of anticipating the consequences of our actions like rock, paper or scissors.
What seems like an absurdly simple and entirely luck-based game has paid off big for Sean Sears, who won 50 grand in the Rock, Paper Scissors competition in Las Vegas.
It's been said what happens in Vegas, stays in Vegas so it stands to reason you never knew there even was annual Rock Paper Scissors competition held there. You probably had no idea you could order hookers over the phone and visit the Liberace Museum either but we digress.
By the way, in case you've been living in a decommissioned, underground missile silo, Rock Paper Scissors is a game whereby you engage your opponent in what the World Rock Paper Scissors Society, or WRPS for short, would call "hand to hand combat." The rules are simple: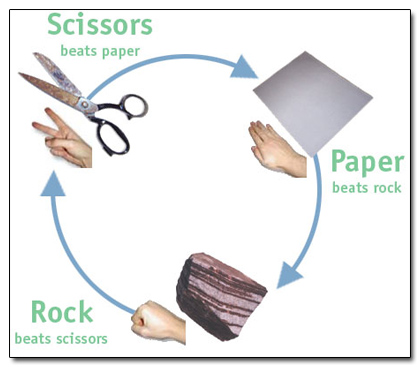 Sure, it can seem a little overwhelming at first but Sean Sears was able to master the game with little to no training, relying mostly on his gut instinct and pure luck. At the final table, he was able to defeat Julie Crossley's scissors throw with a crushing Rock drop.
For his minimal effort, Sears walked away with not only the $50,000, but a free trip to China where he represented the USA at the RPS Olympic Games. There, he won the bronze medal, placing third behind a Canadian and an Irishman. We believe a chicken pecking randomly at the three choices scrawled on a piece of paper finished fourth.