Making good commercials is an art, and like any art some people end up taking it way, way too seriously. What follows is a testament to those select few who dropped out of film school in their third year and simply refused to let go.
Making a commercial to attract tourists to the land down under seems like it should be a pretty easy task: Have lots of shots of the nice scenery, show people having fun on the beach and edit out anything that shows giant poisonous spiders or the native Australians stealing suitcases.
Yet, instead of going with the easy and conventional approach, director Baz Luhrmann gives us a depressing insight into one woman's private Hell:
In just a few seconds we learn that our woeful protagonist is suffering from relationship problems and is having serious trouble at the workplace. That cuts quite logically to an apparently naked boy trailing this poor woman to her apartment. First she begins to hear his voice while watching the news, and then things really get creepy when he lets himself into her apartment and whispers, "Sometimes we have to get lost to find ourselves," to her while she's sleeping. You're blowing our minds, Australia!

"Come visit Australia... or else."
By the time the nude kid pours sand into the delusional woman's hands and we cut to a blurry shot of the water, most viewers are ready to hear the name of what they suspect is M. Night Shyamalan's newest film. Only after we see her happily swimming with her man who loving says, "I'm glad you're back," do we finally learn what this ad is about, as "Australia" flashes briefly on the screen.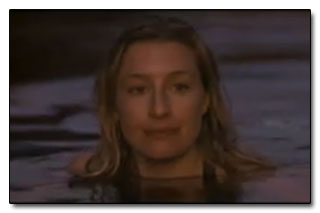 So, apparently Australia is a great place to visit if you're suffering from crippling depression and regularly hallucinate about naked boys. For the more mentally stable among us who just want to drink beer and look at kangaroos, you're out of luck.
Federation Against Copyright Theft
The Federation Against Copyright Theft had a simple strategy: get the good citizens of the internet to turn the pirates in. Of course, the only way to witness illegal file sharing is to illegally share files. Somewhere along the way, The Federation decided the best way around the gaping hole in their plan was to scare the shit out of five year olds with an avant-garde film made entirely by retarded people.
In the ad, a sinister looking man jabs a hot poker at the camera as a narrator explains that the pirates are out to get us! You might have heard The Federation is worried that the average consumer is turning to pirated goods. But that's really secondary to their concern for your safety, what with all these pirates making shit explode everywhere.
In a shocking reversal, the ad threatens to make a coherent point as it explains that piracy costs jobs by harming the music and publishing industries. But that quickly gives way to the sound of machine gunfire and chanting voices as our narrator explains that piracy funds terrorism, and that terrorism destroys "our development and your future enjoyment!" Wait, what?

If you see Wolverine: Origins before it hit theaters, they win.
This "anti" piracy ad manages a rare double whammy of ineffectiveness. It portrays the people they're trying to get to help them as fat lunatics wielding glowing thunder sticks. And then, when they actually wander within shouting distance of a valid argument, the best they can muster is that it's all part of the terrorist's extraordinarily long drawn out plan to make you watch shitty films. If the terrorists plot extends to overwrought short films masquerading as anti-piracy ads, it looks like they've already won.