The 10 Most Perverted Old School Video Games
#5. Cho Aniki (Playstation)
It was inevitable that a Japanese game designer would follow their Japanese/English dictionary along a trail of mistranslation leading from "happy" to "whimsical" to "gay" and finally to "fucking hell, that is ass-demolishing gay." It looks like that's what happened here. Cho Aniki is a cross between Gradius and lubricated men having sex with each other. You start the game as a nine-story flying man in a Speedo firing lasers out of your viking hat, and yes you read the beginning of this sentence correctly.

The main boss is a pyramid of men in bikinis launching Skittles out of
their mouths.
After a few minutes of this, you are transported to a dimension of pure homoerotica. You swim through the air with your two nude male assistants, who follow beside you and recline into various sexy positions. The three of you fight off hordes of tiny chariots filled with naked men, rocket-powered dildos with naked men dangling from them and giant naked men using other giant naked men as pogo sticks.
Eroticism: 0/10
Let me try to paint this baby-oil massage of a mental picture: The first boss is a monstrously huge man wearing a metal sphere for a codpiece. As you blast it, a second phallic-shaped man comes out of his crotch and tries to jab you with his stretching penis-arms and penis-head. While this is all going on, humpy jazz music is being mixed with the sounds of a woman panting. That sound you're hearing is probably you screaming, either from homophobic panic or from someone putting things up your ass.
Nudity Challenge: 0/10
The game itself isn't that hard if you know what you're doing. The only tough part is keeping your hand-eye coordination when things like a severed head riding a penis tries to kill you.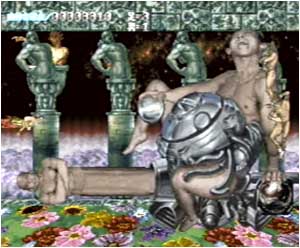 If you lose, one or both of your naked men fall in love with the stage boss.
Plus, even if you're terrible at it, and can't unlock the later, gayer levels, the game's intro features all the grinning, posing naked men you could ever want. It's not the worst shooter ever made, but it is the worst shooter to advocate putting your mouth on a man's asshole, and that's a good way for an impressionable kid to catch dysentery.
#4. Beat 'em & Eat 'em (Atari 2600)
The object of Beat 'em & Eat 'em is simple. You control two naked women who run back and forth trying to catch falling semen in their mouth. You might ask why someone would do something like that. Well, the manual says that each drop of this stranger's seed "could have been a famous doctor or lawyer." The problem with that, and this is an actual medical fact, is that whether you swallow sperm from the sky or let it splatter all over the sidewalk, it's going to give you the same number of famous baby lawyers: zero. Also, if someone is masturbating off a roof onto people's heads, chances are he's not the best gene stock.
I suppose we shouldn't expect the designers of a game about a penis with a head stroking itself to be geniuses, but what happens when they settle down with their Beat 'em & Eat 'em royalties and want to have children? "You're still not pregnant, honey? Are you even eating the sperm I'm squirting off the roof?"

Eroticism: 1/10

There's something non-erotic about skipping past the courting, past the foreplay, past the actual sex and getting straight to the sperm-swallowing. They might as well have skipped directly to sleeping on the wet spot.

Nudity Challenge: 8/10

This game gets hard. I don't know how long this naked fruitcake on the roof has been without coitus, but his balls have a hell of a lot of germ waiting to be spurted free. As the game goes on, his seed falls like the goddamn rain and catching all of it in your mouth requires a miracle of perversion and reflexes. However, for each falling wave of future doctors you manage to swallow, you're rewarded with a disgusting animation of the women licking their lips. And due to the primitive graphics of the 2600, their attempt at drawing lips made it look like they have full beards.
#3. Custer's Revenge (Atari 2600)
Custer's Revenge is a dramatic historical recreation of the battle of Little Big Horn, slightly rewritten to appeal to our adult fantasies. Instead of being killed by the savage godless Sioux and Cheyanne Indians, Custer wades through a hail of arrows to hump a woman tied to a cactus. I know what you're saying: "Finally, I can use our country's bloodiest military disaster as foreplay!"
Eroticism: 2/10
The way Custer's manhood dangles and sways in the wind in perfect rhythm with his pink scarf creates an image more majestic than any Montana sky. However, the American Indian he's sexually assaulting sort of looks like a cocktail wienie on a toothpick. Concerned parents might be wondering how to explain this level of intense sexuality to your children. Well, the Custer's Revenge manual advises, "If the kids catch you and should ask, tell them Custer and the maiden are just dancing." This advice is moot, though, since if you're the kind of parent who jerks it to what looks like a gay cowboy humping a hot dog made out of Legos, you're probably reading this far, far away from the safe location to which child services has moved your children.

To their credit, despite a hail of deadly arrows, they're all smiles!
Nudity Challenge: 3/10
Getting across the screen to score points with your pelvis is mostly a matter of luck since if you see an arrow is coming at you, you usually can't move fast enough get out of its way. Also, cacti appear randomly to skewer your wang without warning. These are both formidable obstacles on your noble quest, but the real challenge must have come when Custer had to convince the seventh cavalry to go through with this operation.
Custer: "Gentlemen, you are the bravest squadron of men it has ever been this Southerner's privilege to serve with. And you will need that bravery today, as your orders are to remove my pants and underpants. I will then attempt to force sex on an Indian girl under heavy enemy fire. Are there any questions?"
Custer's military advisor: "Yes, general. Several."
#2. Boong-Ga Boong-Ga (Arcade)
Developed by Koreans for the Japanese, Boong-Ga Boong-Ga is the first arcade game that combines of assaulting assholes and fortune-telling. You select from eight characters like "Mother-in-Law," "Con artist" and "Child Molester" and then, steel yourself for this, you ram a giant plastic finger into an ass that protrudes out from the arcade unit next to the words "HAVE A FUN!! ENJOY." As you poke, spank and probe, the game plays an animation of your victim wailing in pain, and then the game, and I'm not fucking kidding, rates your sexual virility based on the impact of your finger against its virtual colon. Oh, and its corporate mascot is a six-foot magical monster made out of turd.

Boong-Ga Boong-Ga's corporate mascots, a finger beast
and a turd in pajamas.
If you're anything like me, you've already asked yourself about the dangers of this technology being in the hands of two foreign powers known for giant radioactive monsters and nuclear weapons, respectively. And again, if you're like me, this train of thought quickly hits a wall when you realize that you're not an accredited expert on foreign colon-probing policies. So until one of us is, let's just assume that we're all going to die, but not quite as quickly if we stay far away from Boong-Ga Boong-Ga.
Eroticism: ?/10
Since the entire idea behind this mess confuses me, I couldn't give it a fair Eroticism rating. So to come up with your own personal rating for how erotic this game is, rate the likelihood of you ever saying this sentence: "I am so horny after being at the arcade pretending to jam my finger up a child molester's asshole all day!"

If this game really wanted to help the world, it would
drop a steel cage around anyone who puts a quarter in it.
Nudity Challenge: 0/10
There's really no nudity to earn in this game, but after a successful game, a card pops out of the machine that "will explain your sexual behavior." And guessing what kind of people would assault a toy ass in public, it's a safe bet that each and every card reads, "You sex life big time number one disaster of freakish criminal behavior."
#1. Miss World '96 Nude (Arcade)
The object of Miss World '96 Nude is to draw out areas of the screen to uncover a picture of a nude woman. The challenge comes from the creatures who try to ram into and kill you while you're drawing. For those familiar with it, it's exactly like the game Qix, only here you "will meet hot beautiful girl." And even though it's called Miss World '96 Nude, some of the nations' women were misinformed and kept their underwear or swimsuits on. On the other hand, some nations went a little too far and are represented by women who look like they were photographed by a man trying to climb up their birth canals.
Eroticism: -16/10
Most of the women in this game look good, that's not the problem. The problem is that at random points during gameplay, a little girl's head appears, shouts "TURNING!" and then transforms into Dracula. Then, the nude photo you're uncovering switches into a scene of absolute horror.

Hey, this isn't so bad at all...

... oh HOLY FUCK SHIT AAAAHHHHH!
Growling demon heads grow smaller demon heads out of their faces, and unleash an onslaught of terror that will cease any self-gratification you might have been starting on. The maggot-dripping vision of terror does eventually turn back into a topless girl, but by then the point is moot. It doesn't matter if a lump of dead bodies burning in a fiery pit of hell turns into the most beautiful girl you've ever seen--you're still done thinking about sex for awhile.
Nudity Challenge: 6/10
While it will probably take a few quarters and a strong stomach for demonic organ-launching madness to reveal an entire nude picture, each woman's body is silhouetted before you uncover it.
So if you have basic silhouette-decyphering skills, you can go straight for the body part you most want to look at. For example, if you like armpits, it's pretty easy to figure out where her armpits are and draw out the area around them. But keep your quarters. If you can get off on an armpit that transforms into Pinhead then back into an armpit, chances are you could masturbate to anything.