Sean "Seanbaby" Reiley was writing comedy over at Seanbaby.com when Cracked was a poor man's MAD Magazine. He's been a major influence on some of our best writers, and starting in April, he's going to be Cracked.com's newest columnist. "Seanbaby's Flying Blind on a Rocket Cycle" will be our first new column since Robert Brockway came along back in November and started punching words through your computer screen. Today, we're introducing him to some of you, and reintroducing him to the rest, with his look back at some of the most disturbingly erotic old school games.
Just like orphans and tap dancing, eroticism and video games were meant to be together. Barrel-throwing gorillas and nudity are a perfect match, and sand paintings show that even as far back as ancient Egypt primitive man has been mixing pornography with Zaxxon. But "adult game" designers often cross the line between sexily risque and fucking lunacy.
Warning: Some of the things and the breasts attached to them discussed in this article may confuse and frighten younger readers. If you are one of them, please stop reading and go play any of the games where you splatter the heads off of aliens with a rocket launcher.
One day, a game designer was playing Tetris and said, "What if I was playing this type of game, but at the same time had a huge erection?" Bubble Bath Babes was born. It's a lot like Tetris, only there's a naked woman on the screen as you play.
Also, as you do well, the game shows you screenshots of slutty women surrounded by flowers and screaming about bubble baths. For example, one girl in a bikini shrieks, "WAY TO GO HOT SHOT! CARE TO LATHER ME UP?" And if that doesn't put you in the mood for sex and Tetris at the same time, you're either a robot or a gay robot.
Eroticism: 2/10
While the screenshots you earn in Bubble Bath Babes are easier to masturbate to than any of the bonus screens the original Tetris gave you, they're still not that sexy. When a badly rendered woman who clearly can't speak English is trying to seduce someone with puns about soap bubbles, it's an uphill battle. It doesn't matter how attractive she is. She could be playfully washing your car with a group of topless cheerleaders, but when the words "POP MY BUBBLE NOW I BET I CAN MAKE YOUR'S BURST!" come out of her mouth, you're going to be a little too busy backing cautiously away to have anyone bursting all over your bubbles.
Nudity Challenge: 9/10
Each level, the screaming women get more and more nude, losing a little bit more of their mind each time. So by the point of full nudity, you'll probably have to strap a straitjacket on her anyway. Not that anyone would know. Getting them out of their panties requires such a fantastic level of hand-eye coordination and rapid reflexes that it becomes a death trap. Because if you masturbated using your amazing dexterity, there's a good chance it'll end with a pleasure-induced brain seizure and a fucking disturbing corpse for your landlord to find.
Strip Fighter 2

(Turbo Grafix 16)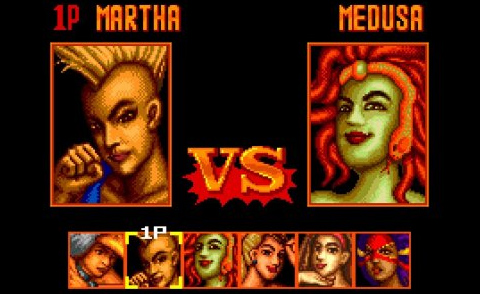 This is a tit-based spoof of Street Fighter 2. Karate women face off in a pit fighting tournament where the winner takes home naked pictures of other women. Like in all fighting games, they come from varied backgrounds and cultures. There's a girl in a swimsuit and matching bird-shaped hat, a fat pro wrestler, a ballerina in her lingerie and a woman who's just wearing a snake.
Unlike other games where they come together for the glory of victory or the conquering of some retarded combat-dimension-thing, the fighting spirit that binds these noble warrior souls together is the fact that most of their martial art techniques revolve around showing their panties to one other.
Eroticism: 3/10
There were a lot of half-naked people already in Street Fighter 2, so the actual game doesn't even seem unusually erotic. Yes, I understand there is something wrong with an industry when a group of women kicking the crap out of each other in thongs is totally normal, but fuck that; I'm not a sociologist. I'm just telling you that probably nothing in this game is going to turn you on until you win a picture of a naked girl.

If you can get off to this, I hope you're reading from
inside something with a good lock on it.
Unfortunately, that's when it gets a little bit creepy. Before the camera pans down her strategically blurred body, there's an inept attempt by the graphic artists to make it look like the girl's winking at you. A stupid graphic of an eyelid slides over one eye then disappears. And I don't know if you've ever seen anyone wink without moving the rest of their face, but it looks less like flirting and more like a horrible sleepy-waky baby doll with a broken eyeball.

Gah!
Nudity Challenge: 7/10
You only earn pictures of naked women if you beat the game on a high level of difficulty, and the fact that each character has a total of three possible attacks makes it hard to keep your enemies guessing. And Strip Fighter 2's controls are so unresponsive, you usually can't tell which of the women you're supposed to be controlling. I forgot, am I the fatty or the bird-headed Indian? And more importantly, how in the name of balls can I masturbate to either?
Since it's hard to stay awake through a whole fight, you can usually only tell if you've won if you get the terrifying winking naked woman afterward.