Advertisers have this problem: Kids today want things that are "dark" and "edgy" and "not retarded," but some products just have nothing to do with any of those things at all. So how in the world do you shape a marketing campaign for cereal or eye liner that somehow makes it badass?
You don't. Or else you wind up with ridiculous campaigns like these.
Sony's Lesson in Desperation
The strategy makes sense, on the surface. Sony was competing with Nintendo's portable handhelds, and Nintendo has a kid-friendly image. What better way to market the Sony PSP than by going "edgy"? So what's the best way to do that...
First, they tried vandalism, by hiring graffiti artists to tag various buildings with images of, well, little kids playing the PSP.
Somehow the hip underground wasn't fooled, often vandalizing the Sony ads by spraying over them and (accurately) labeling it as "advertising directed at your counter culture."
OK, that didn't go over so well. So what else do kids like? Hey, how about racism? Like if we portrayed the introduction of the white PSP as some kind of interracial catfight?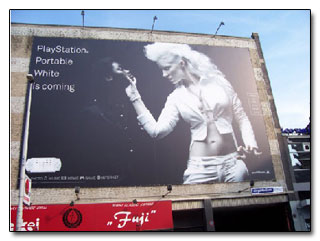 And then, finally, Sony went for the whole "fake viral fan video" thing when they set up a "fan" site called alliwantforxmasisapsp.com with a blog and a "it's hilarious because it's bad" amateur rap video:
After somethingawful.com formally called shenanigans, revealing the whole project not to be the product of an eccentric fan but, in fact, a giant room full of advertising executives, the site was reduced to this half-assed admission of guilt:
Busted. Nailed. Snagged. As many of you have figured out (maybe our speech was a little too funky fresh???), Peter isn't a real hip-hop maven and this site was actually developed by Sony. Guess we were trying to be just a little too clever. From this point forward, we will just stick to making cool products, and use this site to give you nothing but the facts on the PSP. Sony Computer Entertainment America
Meanwhile, some guy in a suit smacks his desk and says, "I knew we should have stuck with the racism thing!"
Reebok Wants You to be Like Fiddy
What makes 50 Cent different from other rappers? If the first thing that came to your mind was, "He's arguably the savviest businessman," you're technically right. But the answer we're looking for is, "He was shot nine times."
Good ol' Fiddy has built his entire career on those bullet wounds. And while he may not seem like the brightest jewel in the pimp chalice, the man knows how to sell himself. So in 2005, possibly after sensing that his routine was getting old in America, he did a Reebok commercial in the UK.
It shows a typical day for 50 Cent: nothing to do but hang around a flooded diner, count to nine (get it?!) and reflect on life. Oh yeah, and he's wearing Reeboks. We almost forgot.
Reebok claimed that the ad was "a positive and empowering celebration of the right of freedom of self-expression, individuality, and authenticity." Meanwhile, a Mothers Against Guns spokeswoman said it "endorsed his type of lifestyle...by implying it was possible to survive being shot nine times".
Well, apparently it is possible, but it's a weird way to sell sneakers. The Advertising Standards Authority banned the commercial and 50 Cent was replaced by someone who doesn't brag about his wounds.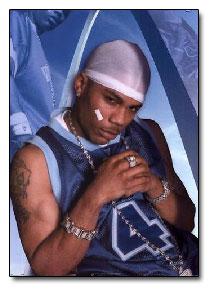 He even covers them up.