The hero's tale requires that he overcome long odds to defeat the bad guys. We understand that; nobody would have rooted for Luke Skywalker if Darth Vader had been a small, handicapped child.
But many of the cartoons of our childhood took this idea to absolutely retarded extremes, to the point that it strained even our childish suspension of disbelief. These are the badass villains who had no business coming out on the losing end:
Dr. George Claw is the head of M.A.D., a criminal organization whose main purpose is committing crime and wreaking pointless havoc. Take notice that they don't mention profit or power as a main goal; those are only unexpected bonuses.

M.A.D. 1: You know, we could have looted some stuff before burning down that warehouse.
M.A.D. 2: Why?
There was one time when Claw teamed up with his Japanese counterpart, Waruda, to steal all the jewelery in the world. Yeah, you read it right. All the jewelry. From the Queen of England's crown to the ring in your great grandma's icy death fingers. Why? Presumably, for the hell of it.
They also had their logo stamped on everything. You might think it's a weird move for a criminal syndicate, but, you know, you can't underestimate the value of brand management.
Who Was He Constantly Losing To?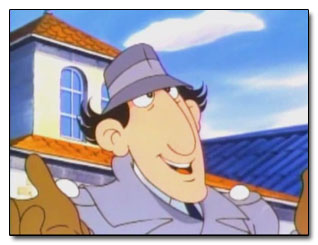 Inspector Gadget.
The whole "spawning any weapon from his hat" man machine thing sounds like he'd be a powerful hero, but then you realize he's less "combination of man and machine" and more "combination of machine and pure incompetent asshole."
Gadget is constantly being outwitted by his own dog and his 10 or 11-year-old niece. They were the ones who always ruined Dr. Claw's schemes, often by replacing the objects he tried to steal with worthless replicas. It's worth noting that Penny apparently had the same neurological condition as the guy in Memento as she needed to write down everything she was thinking in her 128kb laptop.

Really, Dr. Claw?
Well first of all, he is an evil wizard, and we're assuming the name isn't referring to a medical condition. He lives in a dark castle surrounded with dark clouds, where we suppose he performs some dark rituals of dark wizardry.
Look at that bastard. Dark robes, a cloak that hides his face in shadows, it's deformed features a mystery other than a pair of glowing, evil red eyes. He also has shadow minions, who may be more fucked up than he is. Whenever children are having good feelings, they just literally suck the feeling out of the children, injecting a creepy pedo-vibe that you don't usually get in Saturday morning cartoons.
Also, he is a shapeshifter, so he could just go and shapeshift into some world's leader and start World War III. We tried to find out what power would be more convenient for world domination and we only came out with a gun that had infinite ammo and also great boobs. Then again, he could shapeshift into an even bigger gun with even bigger boobs. Damn you, No Heart!
Who Was He Constantly Losing To?
The Care Bears.
Little fluffy bears who cared. And lived in clouds. Loving everything. Loving each other. Really, when these guys weren't throwing alcohol-free birthday parties they were baking cookies. They sprinkled some light out of their fluffy tummies. Tummies that No Heart should have been able to gut with a single swift move. Instead, they got him with the fluffy tummy light trick over and over again.
If the world's most ruthless shapeshifter doesn't stand a chance against fluffy bears, then imagine how screwed we are when the army of Teddy Ruxpin's finally become self aware and crawl up out of the land fills.