It's 2009. Where are our jetpacks? And laser guns? It seems like the cool stuff of sci-fi movies is now the stuff of the billion-dollar military programs, and equally unavailable to us common folk. What the hell?
Well, if you're tired of waiting for this stuff to turn up on store shelves, it turns out a whole lot of these working sci-fi staples can be built on your living room floor. All it takes is some off-the-shelf parts, a little creativity and a complete disregard for your own safety.
WARNING: SOME OF THESE ITEMS COULD BE USED TO KILL DUDES BY UNSCRUPULOUS TYPES. PLEASE DO NOT USE THEM FOR THAT PURPOSE.
Few things say sci-fi quite like a device that shoots huge blue bolts of electricity. Well except a city-sized UFO, but those are too hard to make at home, so we'll stick with the Tesla coil. All you need is some easily available parts and no fear of deadly amounts of uncontrolled electricity.
The detailed instructions found on eHow.com point out you just need some common items from your hardware store (metal plates, bolts, brackets, etc.) and a transformer. Not the overblown Michael Bay kind which can lead to inconvenient city-wide robot battles, but the electrical kind you can find in many devices. You can get them from a car parts store but they say the best ones are found inside neon signs (NOTE: PLEASE DO NOT STEAL THE NEON SIGN FROM THE NEIGHBORHOOD LIQUOR STORE TO COMPLETE THIS PROJECT. A GUY WILL PROBABLY CHASE YOU WITH A SHOTGUN).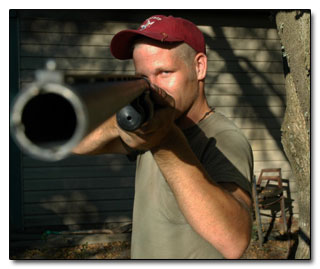 Oh, and you also need a source of electricity, so if you were hoping to hold this thing in your hand and pretend it's Jedi Force Lightning, you'll need an extension cord. Actually, the above guide mentions that Tesla coils have killed people in the past, so you probably don't really want to hook one up to your hands and pretend to be Emperor Palpatine. Especially if you happen to be taking a bath at the time.
Oh, and if actually paying the few bucks for those items to make your own dreadfully unsafe death machine seems like too much of a burden, the Internet also offers you alternative items found in most dumpsters, so you've got that going for you if you're homeless but still want your alley to resemble a super villain's lair.
A Laser (Yes, One that Can Actually Burn Holes in Stuff)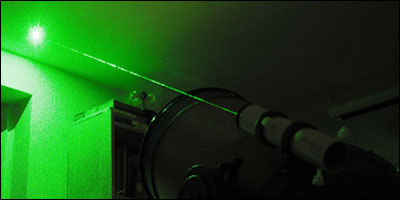 OK, if you were turned off by even the minor costs associated with the Tesla coil up there, here's something you can build with stuff you have in the house right now.
Thanks to modern technology, we're surrounded all the time by horribly dangerous things. If you're willing to disregard common sense and safety precautions, you can take something as simple as a Maglite and a DVD burner, and make yourself a laser that will set things on fire (well, if they're already kind of flammable).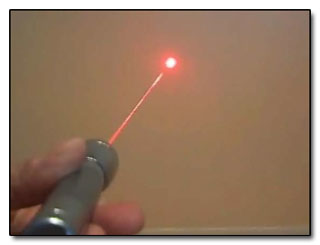 It just involves digging out the laser diode from the DVD burner and embedding it in the flashlight instead of the bulb. If you're confused, the instructions are available in video form:
The guy in the video uses his laser to instantly light a match and pop a balloon from several feet away. OK, so it's not exactly a deathray, but hey, it was free (assuming you weren't still using that DVD burner).
So the next time the bad guys have you tied up, armed with nothing but your flashlight and DVD-RW drive, and they're all carrying balloons filled with napalm... you'll know what to do.