Who doesn't love cartoons? The Man, that's who.
They insist on editing away those wonderful animated moments of horrifying violence, profanity and outright bigotry that cartoons from all eras like to slip in from time to time. Typically they only get to slip it in once before parents and advertisers drop the hammer and get the episode pulled forever.
Here are some of the moments they don't want you to see... though upon further review, we're thinking they may have been right.
Donald Duck Gets in Der Fuhrer's Face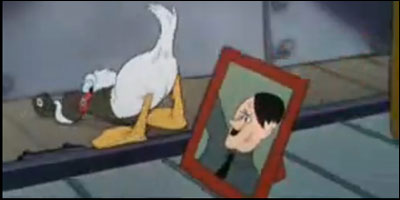 The Cartoon:
Donald Duck was basically the anti-Mickey Mouse. For his time, he was rude and crass; a real prick that everyone loved. He's played second banana to Mickey for decades, despite many polls back in the day showing him to be the more popular character. Sometimes, we just identify with the asshole more.
What many people don't know is that Donald Duck's rise to fame came in 1943 when Disney decided to him dress up like a goddamn Nazi and make fun of the Axis in the animated short "Der Fuhrer's Face":
What The Fuck?
Yes, this cartoon makes fun of Nazis, but it's still pretty fucking offensive. At the 1:03 mark there is a Japanese character that is literally painted yellow.
Then there is the gay innuendo at 1:07, with the clearly gay depiction of Nazi military leader and future war criminal Hermann Goering getting rammed from behind with the trombone seconds later, proving that the "tromboner" joke you used in elementary school is a tradition dating back to at least the 40s.
But what makes Disney wish this would quietly go away is the portrayal of Donald Duck as the loyal Nazi (during what later turns out to be a dream sequence).
"Der Fuhrer's Face" was just one in a line of seven Pro-US and Pro-Army shorts done by Disney at the time". Also, they weren't the only ones getting in on the propaganda train, seeing as Popeye did it too (with the subtle title, "You're a Sap, Mr. Jap!"), as well as everyone from Daffy Duck to Superman, so yeah, this was pretty common for the time.
The Fallout:
It won the 1943 Academy Award for Animated Short Film and was voted #22 of the 50 Greatest Cartoons of all time in 1994. The shorts effectively launched Donald Duck from sidekick to superstar, starring in 100 animated shorts between 1943-1961. Still, Disney has worked hard to keep this one out of circulation. We guess Donald enthusiastically doing the Heil Hitler at 1:56 is the sort of thing that could be taken out of context.
Ren and Stimpy's Oar Beating Special
The Cartoon:
Ren and Stimpy was by far the most controversial cartoon of the late 80s and early 90s, starring a rage-filled Chihuahua named Ren and a functionally retarded cat named Stimpy. Created by John Kricfalusi, the show aired on Nickelodeon for the sole purpose of traumatizing children and pissing off parental groups. It flaunted gross-out humor, implied homosexuality, sexual innuendos, profanity and brutal and imitable violence. Depending on your point of view, this was either wildly irresponsible, or totally fucking sweet.
For years the show danced the tightrope of what was too much to put on children's television until Kricfalusi basically said, "Fuck it," and had Ren savagely beat a man half to death with a boat oar in the episode "Man's Best Friend." Here it is as part of a clip that somebody inexplicably patched together featuring Ren plucking nerve endings out of his mouth for the first 30 seconds.
What The Fuck?
Holy shit. Ren was really into beating the crap out of that dude.
It manages to be unsettling even on a medium where people getting smacked in the head with shovels is commonplace. It'd be like if Rosie the Robot decided to decorate the Jetson's home with their internal organs.

"These walls could use a new coat of blood"
The Fallout:
When Nickelodeon saw this clip in the episode, they lost their shit. They refused to air it, and then proceeded to fire Kricfalusi, citing the violence level in the show and missing deadlines (for not turning the violence in on time, we guess). That's right, they deemed this clip so brutally violent that they fired someone over it.
This episode was banned from all broadcast and not seen in any format until it showed up on Spike TV in 2003 as part of the ill-fated (read: shitty) Ren and Stimpy "Adult Party Cartoon," where it only aired once and can only be found on DVD. If you feel your life is lacking brutal cartoon violence by a gay dog beating the shit out of people with wooden objects, then you might want to hunt this gem down.