Do you sometimes feel like you haven't accomplished enough in your life? Like you're not living up to your potential? Well, get ready to feel a little worse.
Here are five guys who, while sleeping on park benches and using newspapers as both blankets and undergarments, managed to make more of themselves than many of us ever will.
Heavy is the head that wears the crown. Unless you're just a madman who pretends to run a good chunk of the world, in which case it's probably not that hard. Such was the scenario of Emperor Joshua Abraham Norton, a homeless fellow who, by all accounts, was both as crazy as a shithouse rat and pretty awesome at the same time.
Formerly a businessman who lost every penny he had and apparently went over the edge as a result, Norton proclaimed himself "His Imperial Majesty Emperor Norton I." He declared that he was the Emperor of the United States and Protector of Mexico back in 1859. He reigned for over 20 years, walking the streets of San Francisco in full military uniform on a daily basis.

He can afford a sword? We can't. What the fuck?
He was known for making proclamations and giving orders on how the country was to be run, such as issuing an order that Congress be dissolved by force, demanding that a League of Nations be formed and that a bridge be built connecting Oakland to San Francisco. Is it a coincidence that two of those things have since happened? Well, yeah probably.
So why are we holding him up as a positive example when there are probably thousands of homeless dudes who think they're the president? Because the city loved him. He made his own currency, and stores honored it. Mark Twain and Robert Louis Stevenson both created characters based on him.
Oh, and when Norton died suddenly in 1880, 30,000 motherfucking people showed up on the following day to attend his funeral.

Oh, come on, who even paid for that tombstone?
Every so often we'll hear an amazing tale of a human so infused with adrenaline that they can lift an entire car off of a loved one. It's heroic and dramatic and probably never actually happens, right?
Well in the land of the hobo this story came true, proving that whether it's from an innate human desire to protect others or it's because huffing glue actually grants Marvel comics-esque super strength, in a pinch a group of raggamuffins can in fact lift an entire Cadillac.
It was back in 2006 when a homeless man named Standford Washburn was sitting in an Nevada alley, drinking with some transient buddies as people of that type tend to do. Suddenly a Cadillac plowed into a 9-year-old girl in front of them, pinning her underneath it.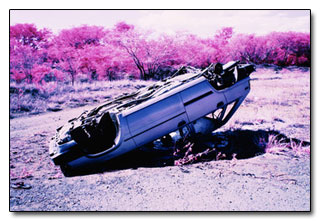 Washburn and a couple of others flew into action, running to the 5,000 pound car and lifting it off of the girl, saving her life. The men then humbly returned to their Thunderbird, shaming the rest of the pedestrians on the street who had homes, jobs and probably fresh pantloads of shit.