Are we the only ones who think that Hilariously Failed Attempts at Guinness World Records would make a better book?
We believe we have much to learn from these brave souls who, through lack of planning and/or ability, set an example for all of us not to follow.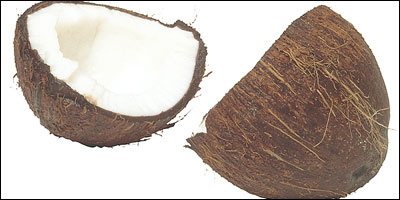 The Goal
To break a row of coconuts open as quickly as possible with his bare hands, thus proving once and for all man's dominance over nature.
What Went Wrong
Imagine if coconut breaking was your ultimate goal in life. Practicing long and hard on the lesser, punier fruits, calculating the ideal point at which to hit a coconut for maximum destruction, trying to find someone who actually cared about your hobby...these are all part of the trials that a coconut smasher faces in life.
Imagine the anticipation when the big day comes, when you finally get that chance to join the hallowed ranks of famed fruit and vegetable destroyers that Guinness has produced.
So you invite your friends and family to watch. You get the TV cameras there to record your triumph. You line up many, many coconuts...
...And while you manage to break both your spirit and probably your hand, you break not a single coconut.
Lesson Learned
Look, we know coconuts aren't free. But when you try to set a record of some kind, you might want to, you know, practice doing it at least once. And don't practice on, say, rotten watermelons or eggplant. Spring for a couple of real coconuts, and do a dry run before the cameras get there. You'll thank yourself later.
The Goal
To make the longest sandwich ever prepared, proving that they're better at wasting food than anyone else.
What Went Wrong
The record to beat was 1,378 meters, set by a group of Italians. To top that, an Iranian women's organization assembled more than 1,000 cooks with the goal of creating a 1,500-meter long sandwich. Even with that many people at work, making the sandwich was a process that took hours.
The event drew quite a crowd, as watching people make large sandwiches is one of Iran's most popular past times. Do you know what happens to people when they're either working or standing around in a crowd for a number of hours? They get hungry.
Making another compelling argument for why you shouldn't let strangers watch your record attempts, the observing crowd forced their way past the cooks and started eating the sandwich before its record length could be verified. Reports of a Scooby Dooesque scene where the crowd chomped at one end of the sandwich while the cooks frantically tried to out-build them at the other remain unconfirmed.
Lesson Learned
When inviting a hungry crowd to a lengthy event that revolves around not eating, maybe you should provide a snack or two.