Although our attempts to form a religion around the teachings of James Bond have largely failed, the man still has much to teach us.
Today we'll examine how Bond deals with the many, many tragedies he's encountered in his life. We hope to show you that, though he may be a suave secret agent with an almost inhuman ability to score chicks, Bond lives his life by principals we can all apply in our own day to day existence.
As Seen In:
A View To A Kill, The World Is Not Enough
The death of a coworker is something we must all be prepared to deal with, especially if we work at a large company with bad health benefits. Being able to cope ensures the tragedy doesn't derail a healthy workplace and career. Having repeatedly watched fellow agents fall in the line of duty, Bond has had no choice but to learn to properly mourn his colleagues.

"Goodbye, Hagrid."
The Grieving Process:
Step One: Look slightly surprised for two seconds.
Step Two: Go on as if nothing happened.

"I shall miss you, Agent 003. As soon as I finish looting your corpse."
You Find Your Best Friend's Corpse, After a Drug Lord Fed Him to a Shark
As Seen In:
License To Kill
Probably no more than 10% of you will lose a close friend to a premeditated shark attack, and fewer still will find out about their death from a taunting note taped to the half-eaten body.
But as Bond demonstrates once again, you must learn to keep the tragedy from taking over your life.
The Grieving Process:
Step One: Resign from the service.
Step Two: Go on a rampage, brutally murdering every drug dealer in South America.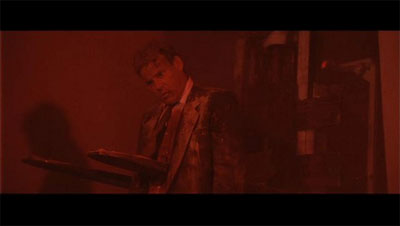 Step Three: Utter dry witticism.
Step Four: Never mention friend again.