It's no surprise that some people spend retarded amounts of money on their hobbies, and who are we to judge? Maybe video games are more fun on a 108-inch TV.
But then there are the obsessive collectors who, due to some compulsion and/or desire to take their minds off how their lives turned out, spend their lives collecting shit that is both pointless and, worse, no fun.
Boxed Transformer Collection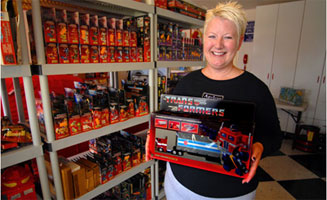 Once Cracked is elected President (and it's only a matter of time) we will pass a law: "Transformers shall be confiscated from anyone who keeps them in sealed boxes and given to kids who'll actually play with them." It's because of you Scrooges that we still can't afford a Devastator, despite having carefully maintained our immature impulses all the way through growing up (at considerable personal cost).

Someday...
A classic example of the soon-to-be-felony is a Mr. Lindgren's eighty grand testament to miserliness, an entire wasted childhood of over 270 prime Transformer toys kept in an attic in dust-proof packing.
Mr. Lindgren unfortunately passed away and his late wife displayed her care and respect for the most important things in his life by auctioning them on eBay. It had apparently sold for a million dollars, and she and her boyfriend (half her age) were already celebrating before a phone call to the "buyer" confirmed that people won't actually pay Bond villian-levels of money for an attic full of plastic. Unless they're five-years old, which the "buyer" was. And like most five-year olds, he didn't even know what a "million dollars" actually was. That's karma, friends.

"Yes, I would like to buy all the transformers."
The couple re-listed the collection on eBay, rather optimistically including a "Buy It Now" option for $1 million - presumably in the hopes that the next five-year old to visit the site would have a bigger allowance.
Every Super Soaker ever made, over two hundred of them, make this man the envy of all the water-pistol collectors in the world, a group who meet every morning in his bathroom mirror because he's the only one.
No Guinness world record attempt, no underground market on which to sell the things for outrageous prices. Just one guy who looked at his life, realized the best thing in it was that had he owned more cheap liquid-projecting plastics than the average human being, and decided to run with it.
Many of the soakers are still boxed, and if there's anything in the world so tragically unfun as an untouched water pistol, we don't know of it (okay, maybe cancer).

But cancer is much less embarrassing.
Sure, it appears to be a horrific waste of time and effort. But maybe he's stockpiling watery weapons in case the aliens from Signs take another shot at us.