9 Awesome Places to Have Sex (And the Horrific Consequences)
Cracked.com's new book is now on sale. What follows is one of the classic articles that appear in the book, along with 18 new articles that you can't read anywhere else.
Every month magazines like Cosmo, Playboy and Boob Fancy write up some titillating article about places you just have to have sex at least once in your life. All of them seem to operate on the Hollywood idea that having sex while, say, zooming down the Pacific Coast Highway on a motorcycle is well worth the risks involved.
Well, you should at least know the dangers of these fantasy sex locations before you get drunk enough to try it.
#9. The Beach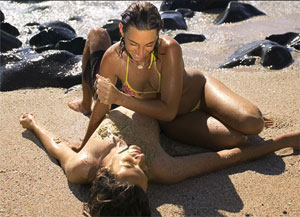 Sex on the beach sounds so hot and romantic, doesn't it? It's so popular they even named a drink after it. Then again, they also named a drink the Duck Fart. In any event, it's still a popular motif in film and books, lying out on the sand under the stars while the waves crash behind you and your special friend as you engage in briny coitus.
As anyone who's ever had sex on the beach probably already knows, if you're not extremely careful you're going to discover what it feels like to exfoliate areas of your body that don't need to be exfoliated. And while even places that recommend sex on the beach will point out the sand issue with a little wink and a nudge, they rarely mention the levels of fecal bacteria often found in the sand.
Every summer, beaches around the country get shut down due to high bacteria levels in the water. But recent research by some scientists has shown that sand, awesome filter of filth that it is, can collect big, fatty loads of that bacteria with the ebb and flow of tides.
In fact, they can live a fuller, more robust life in the sand than in the water. If you're grinding away all nude and lascivious on that sand, chances are some of it is finding its way inside your body. Exposure to these bacteria can lead to fun things like typhoid fever, hepatitis A and dysentery, none of which will make your next sexual encounter particularly exciting.
#8. A Pool
For those too lazy to get to the beach or too fearful of an incident involving jellyfish and taint, there's the semi-thrill of sex in a swimming pool. What could be hotter than dipping your naked hide in water infused with chlorine and urine, while a pool noodle bobs obscenely along with your ungainly and hard-to-maintain humping?
Pool sex has the unwholesome side effect of teaching you just how shitty water is as a lubricant while at the same time delighting you with the possibility of forcing water deep into your unmentionable places, leading to infections. According to research by the University of California, Santa Barbara, even a chlorinated pool can have enough bacteria to get forced inside you and lead to yeast infections and urinary tract infections.
The aforementioned issue with lubrication leads to something science types call "micro-tears" but what you're more apt to call "rips on your junk from lack of lube." Junk-rips greatly increases the risk for STDs and, more disastrously, pruney zombie wang.
If you're looking to avoid chlorine with some manner of ocean scuba sex, dive researchers (such as David F. Colvard, M.D) would like you to know that when you have sex underwater you're probably apt to lose track of some important things like buoyancy, which means you could end up floating to the surface quicker then you'd planned and giving yourself an embolism. Now, we're not underwater sex doctors, like Dr. Colvard back there, but an embolism is probably a total willy wilter.
#7. A Moving Car
The idea getting nasty in a car, or "road head" as mom used to call it when she yelled in the auditorium during our school plays about why she was leaving for a half hour, is a staple of the not-so-exotic fantasy life of many people. Back in the 50s, (from what we've gleaned from movies made in the 80s), everyone was taking their girl up to make out point and then impregnating her on some luxurious leather upholstery within arm's reach of another car where another couple was doing the exact same thing.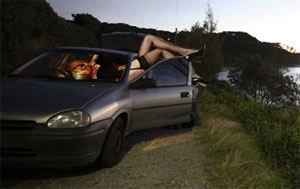 As time went on, the parked sex changed to sex while driving, because who doesn't like more thrills? Probably the numerous people who have been in accidents while having sex in the car. A quick Google search shows stories of accidents in Idaho, Iowa and Romania.
One brilliant couple in Charleston, WV wrecked their car and cleverly tried to pretend like it was no one's fault and that the woman was driving drunk. Naturally, the cops told her the penalty for that, after which she quickly pointed out that her boyfriend was driving and she was going down on him.
In Connecticut, Heather Specyalski tried to use a blowjob as defense against a manslaughter charge brought against her for causing a car wreck that killed a man. So while the idea of car sex may be kind of hot, when you factor in the intense insanity of being horribly distracted in a fast moving chunk of metal and flammable liquids, it loses a bit of its appeal.
#6. Nightclubs
We've probably all been duped into going to a club with our friends at some point. You just turned 21, you're still mildly dazzled by intensely loud music, and there's an apparent meat market of horribly skanky people you never knew existed in your town, all in one place!
Unremarkable women you see every day at work are suddenly dressed in fabric swatches and will eagerly shake their guns like epileptics shoot-fighting Pokemon in a strobe light store. Who are you to complain? All this gyration and movement can, occasionally, lead to unseemly dance floor desires and the risky amongst us may venture to get a taste of forbidden nightclub nookie.
Big deal, right? You sneak into the bathroom with a sweaty stranger, hop into a stall and go to town. The same stall where a nightclub full of tanked strangers have been visiting all night. You ever tried pissing while totally drunk? How's your aim? Keep that in mind, because it means every surface in that bathroom is a bacteria risk for things like e.coli, salmonella, shigella and Methicillin-resistant Staph Aureus found on pretty much any surface in a bathroom someone's hands have touched. You don't need to know what any of those diseases mean. The bottom line is, you're boning on top of the urine and poo of hundreds of strangers.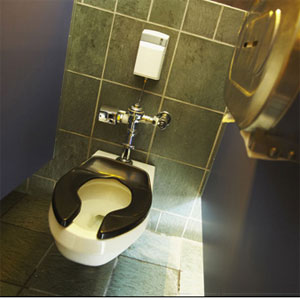 If you're thinking you'll slip into the ladies room because it's cleaner, you should know that while the men's room may be ankle deep in piss, women's washrooms tend to have a higher amount of fecal bacteria present, in some cases twice as much. Now, since this isn't the article to investigate this particular phenomenon, (check out next week to read "7 Reasons Men Are Better Than Women at Pooping"), we'll just focus on the gross and dangerous parts: Microorganisms are the third leading cause of death behind heart attacks and cancer, so you may not want to rub your juicy parts all over the nightclub bathroom counter after all.
#5. A Cab
For unknown reasons, some people are down with the idea of sex in the back of a cab. Maybe it's the feel of that svelte faux leather upholstery that so many other asses have touched, maybe it's the scent of fake pine and cured meats or maybe it's the thrill of an unshaved man who also stinks of fake pine and cured meats watching you in the rear view mirror.
Aside from all the hideous and obvious downsides to cab sex, there's always the chance you'll end up on some site like taxicams.com. Cabbies have been caught in the past for having hidden cameras in the their cars to film couples in the back and, as so many girls gone wild have learned, what seems like a good idea at the time turns into an epically shitty idea in retrospect when your grandmother calls you after just getting the internet and wants to know why there's a video of you with your fingers lodged inside another human being in the back of a Yellow Cab.

"Hear that, Babe? We're gonna be internet stars!"