We understand why movies have product placement. How are studios supposed to make money? You know, other than from ticket sales and DVDs. And merchandising.
The point is, if they have to show a Pepsi label now and then so Will Smith can keep the heat on in his home, we're fine with that. But don't rewrite the damned movie to work the product into the plot. Movies that disastrously stepped over that line include:
E.T. the Extra-Terrestrial:

Loves Reese's Pieces!
Visionary filmmaker Steven Spielberg has always been a step ahead, and his 1982 alien romp ET blazed the trail for modern day product placement. The film was to have a scene where a boy coaxes an abandoned alien into his clutches by use of a classic sex offender technique: leaving a trail of candy on the filthy ground.
But not just any candy. The choice was made months prior to production when Spielberg looked for a partnership with a candy company that would promise promotion for his film. The very droppable M&M's were selected, but the suits at Mars, Inc. refused to have their treats associated with a creature whose appearance falls somewhere between stray dog with mange and syphilitic genitals.
However, the waddling little monster didn't bother the people at Hershey, who were hoping to bolster their Reese's Pieces line. An agreement was made to produce a million dollars' worth of advertisements for the film, and they plastered E.T.'s face right on the candy's packaging.
Most Shameless Scene:
The product is never mentioned by name here, though customers still had no problem identifying it by the package (as proven by 65% spike in Reeses Pieces sales after the movie hit theaters).
The same can't be said for Coors Beer, which E.T. drinks in one scene, hilariously transferring his drunkenness to an underage Elliott via a psychic connection.
You know, between the innocent getting lured into a home with candy and a young boy getting drunk against his will, we can't help but think Spielberg was working out some terrible repressed memories with this one.
Little Nicky:

Sell'n Chizicken, Fo Realz!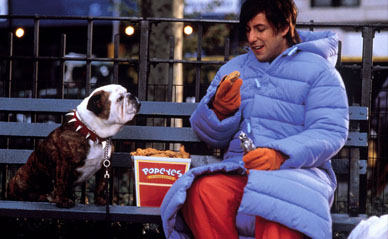 Product placement tends to get a pass in comedies. The movie takes itself less seriously and they're free to joke about the product. But when the sloppy Adam Sandler project Little Nicky featured not one but two separate scenes devoted to Popeye's Chicken, we had to draw the line.
The first was this exchange where a dog teaches Nicky (the son of Satan) how to eat from the prominently placed bucket:
BEEFY: Move your teeth up and down.
Nicky does. He chews for a long time.
BEEFY: Now you gotta swallow it. Tilt your head back and let the meat slide down your throat-hole.
Nicky does, and gets look of complete joy.
NICKY: Hey...Popeye's chicken is fuckin' awesome!
BEEFY:
It sure is. Now eat it up. You're gonna need your energy.
The scene sort of makes sense in context, since only demon spawn would enjoy food from the third-rate chicken joint. But it only gets worse from there.
Most Shameless Scene:
Here a bucket of Popeye's is used to convert the forces of darkness to good, and an actual working actor is forced to say, "Popeye's chicken is the shiznit!" forcing us to assume that Popeye's representatives were present throughout the shoot, and that they were armed.
It's a testament to Popeye's customer loyalty that the chain is still even doing business after that. It would have been a better strategy for Popeye's to pay the same amount of money to put KFC chicken in the scene.