We all like to think of ourselves as badasses. But what would you really do if faced with death? How would you react to being dropped out of a plane without a parachute, or buried alive? After crapping your pants, that is.
Well these people survived all of that and more, slapping Death in the face and telling it to go make them a sandwich.
Vesna Vulovic 1, Mountain 0
Who was she?
Vesna Vulovic was a stewardess back in the '70s working on a Serbian airline.
How She Stared Down Death:
Except for surviving countless ass gropings during her time as a stewardess there was really nothing special about this lady. Oh yeah, except for the fact that she fell 33,000 fucking feet and lived to tell the tale.
On January 26, 1972 our gal was working an extra shift due to a clerical error. She took the shift anyway to earn a little extra scratch, probably to supplement her bear-wrestling hobby or something. Anyway, some terrorists decided to blow up her plane and succeeded in doing so at the worst possible time, when the plane was really high up in the air.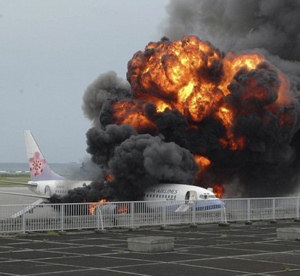 Like this, only six miles in the air
Not only did she survive the explosion that blew the plane into pieces, but she was the only person to live after hitting the side of the mountain. Normally this would totally suck by itself, but it was winter so the mountain was also frozen which probably made it feel like she hit it after falling 33,000 and 10 feet.
Now because we're talking about reality and not a cartoon, she did in fact break a bunch of bones and fell into a coma, but when she woke up she looked around and asked for a cigarette. Apparently flipping Death the bird really gives you cravings.
Not convinced? Did we tell you she was left paralyzed ... but then regained her ability to walk through sheer force of will and balls-out effort? She also didn't suffer any of those New Age, sissy boy "psychological effects" either and continued to fly like nothing happened. As a bonus she collected a Guinness World Record for her troubles.
Want to see if you're as tough? No problem all you have to do is jump off the equivalent of 26 Empire State Buildings.
In case you're wondering, a fall like that takes about three minutes, which should be plenty of time to contemplate death (and every single bad decision you've made in your life) and after that, don't forget to live, break your back, fall into a coma, become paralyzed and then recover, which we figure is the hard part.
Aron Ralston Hacks Off His Own Fucking Arm
Who was he?
A mechanical engineer at Intel. You know those engineers are renowned for being tough guys.
How He Stared Down Death:
No biggie, all he did was take a hike in the woods and came out five days later, missing an arm, which he had to cut off himself.
Seems Aron was big on mountain climbing, which by itself is pretty manly, but not enough to get him on this list. Except during this particular hike a boulder fell on him, pinning his arm. For five days he worked to push the rock off and finally realized he would die unless he took drastic action.
Because the prospect of cutting off your arm may not impress some of you hardcore readers, we need to point out that he first had to break his arm by snapping it against the same rock pinning him down. Then came the hard part, cutting through the flesh.
Lucky for Aron he had a multi-use tool. Unluckily for Aron it was a piece of crap knock-off that he probably got from an aunt at Christmas. Plus saying that he was lucky to have the tool to cut through his arm is kind of like saying you're lucky to have Chapstick on your lips while your head is on fire.
Death wasn't about to give up easily though, and after cutting through the flesh, Aron had to use the pliers to cut through the tendons that the knife couldn't cut. If you feel like the details presented thus far aren't quite gruesome enough, here's a nice interview where Ralston describes how the flesh on his arm already started to rot into mush by the time he got free:
Finally he freed himself, gave Death one last manly smile and found some help. He ended up losing the arm but had it replaced by a bitching climbing ax, accomplishing in one step what we hope evolution does for the rest of us over the next few million years.