7 Movies Based on a True Story (That Are Complete Bullshit)
#3. Victory (AKA Escape to Victory)
The Hollywood Version:
During World War II, a group of Allied prisoners that included the unlikely trio of Pele, Michael Caine and Sly Stallone (who was between Rocky II and First Blood) spent their time in a Nazi prison camp playing soccer. The Nazis, being the clever bastards they were, came up with a can't-miss propaganda extravaganza in which a team of their best and brightest would take on this Allied side, clearly having never heard of Pele.
The Allied team accepts, hoping to use this match as a means of escape. However, once they get their perfect opportunity to escape during halftime, they choose instead to return to the pitch and try to beat the Nazis thus winning respect, rather than their freedom. It should be noted that they were relying on Stallone as their keeper. After a miraculous save by--you guessed it--Stallone, there was much rejoicing, and the Allies escape during the ensuing chaos.
In reality ...
Well, for one thing, there was no Allied team. That means no random Brazilian like Pele, that means no cheeky Brit like Caine, and that certainly means no out of place palooka like Stallone manning the net. Instead, this story is inspired by a group of Ukrainians who were forced into playing the Germans while their country was occupied during WWII.
The Nazis lost to the upstart club miserably and repeatedly, with the Ukrainians destroying them in the final match by a decisive and wholly embarrassing 8-0 score. So that's pretty inspiring, right?
Well, shortly thereafter, the Gestapo found various reasons to arrest and then torture several members of the Ukrainian team. After all, the Gestapo were assholes like that. One player died during the torture process, while the rest were shipped off to a work camp. And, well, executed.
God, that's depressing. And that's precisely why Hollywood chose to Stallone the shit out of it.
#2. Good Morning, Vietnam
The Hollywood Version:
Vietnam, it would seem, was not a good time. What with all the crazy flashbacks, Forrest Gump getting shot in the ass while Willem Dafoe strikes a Jesus pose, and the ridiculous amount of protests that it inspired. How could a regular man or woman make it through without blowing their fucking brains out?
Adrian Cronauer, that's how. A radio disc jockey from Detroit, Cronauer basically told authority to stick a pickle up its ass while ranting and raving with the funniest damn shit you've ever heard, accompanied by a fantastic '60s rock and roll soundtrack, while also teaching impressionable Vietnamese citizens to curse angrily and play baseball along the way.
Cronauer, as portrayed in the movie, is a staunch anti-war liberal. Half of his rantings have to do with how ridiculous the establishment is, or why Army fashion is really awful. He told the Army to stick it repeatedly and with great emphasis, and for his troubles he was sent off to (hopefully) be killed by a commanding officer and then had his ass booted out of the Army.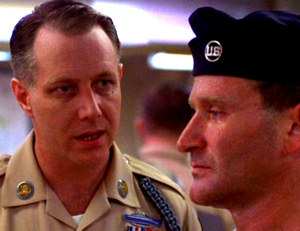 In reality ...
Well, Army fashion sense notwithstanding, everything else we've mentioned is pretty much fabricated. We hate to break it to you, but it turns out that, shockingly, Adrian Cronauer's story was completely re-tooled in order to fit the manic (and pre-family friendly) comedy stylings of Robin Williams.
In reality, while Cronauer did indeed play some sweet tunes, he rarely resorted to flat out comedy bits, and in fact stated that pretty much everything Williams did in the film would have gotten his ass court-martialed. He was never booted from the military, either. No, he had a far more controversial exit: he went home when his tour was over.
As far as being a staunch anti-war liberal, all we can tell you is this: Cronauer, now a lawyer, is "lifelong card-carrying Republican" and was a vice-chairman for the 2004 Bush/Cheney re-election campaign.
#1. The Hurricane
The Hollywood Version:
The Hurricane is the story of Rubin "Hurricane" Carter, a boxer boasting great talent, a really sweet nickname, and a badass Bob Dylan song he inspired. The movie tells us the story of how Hurricane was a promising middleweight who was falsely accused and convicted of a triple homicide, derailing his boxing career but making him prime to be the subject of a great protest song.
Luckily, after 20 years in prison as an innocent man convicted by a bitterly racist system, three young white people from a magical land called "Canada" took up his cause and, after discovering a key piece of evidence, proved Hurricane's innocence and set him free.
In reality ...
First, there is a scene in the film where Carter beats the shit out of an inferior white boxer (Joey Giardello) only to lose when blatantly racist judges award the fight to the white man. In real life, Carter lost the fight so badly that the real Giardello sued the filmmakers over the scene and got a nice settlement out of it.
But far more disturbing is the whole murder thing. We're not saying Carter committed the crime, we'll just casually point out that by the age of 14, the Hurricane had already been arrested for assault and armed robbery. By 22, he had been imprisoned twice for "brutal street muggings." He was booted from the military after being court-martialed a whopping four times, being described as "unfit to serve." But, hey, nobody expects boxers to be model citizens. It doesn't mean he killed anyone, right?
Well, when it came to the murders, there was enough evidence to convict him twice (both times set aside due to procedural errors by the prosecution). Carter failed a lie detector test--miserably--and then was given a chance to re-take it after he'd been imprisoned for awhile. He refused. At his second trial, several witnesses who had provided Carter's alibi admitted they had been asked to lie for him.
But what about that evidence that proved his innocence? Well, there was in fact none. The judge was forced to throw out the conviction because the prosecution had failed to turn over some evidence and thus didn't give Carter a fair trial. The prosecution could have chosen to re-try the case from scratch to convict Carter a third time, but they decided it wasn't worth doing since 22 years had passed and all of the people involved were either dead or ridiculously old.
Of course the law is the law and the law said Carter could go free. But it's probably not quite accurate to use Carter's story as proof that the criminal justice system is run by the Klan. The whole thing has really made us question Bob Dylan's research skills.
For an article in which we call bullshit on more of your favorite flicks, check out 11 Movies Saved by Historical Inaccuracy or our look at 5 Things Hollywood Thinks Computers Can Do.