In a relatively safe world, the part of our brain that alerts us to danger just seems to get bored sometimes. Thus, phobias (from the Latin "phobus" meaning "Seriously, you're scared of that?") are born.
Psychology has compiled thousands of phobias, to the point that it seems somebody in the field has made a hobby of inventing them. But there are some truly ridiculous ones that actually do affect people, including some people you know. Such as ...
Chromophobia
What is it?
Fear of bright colors.
Imagine you're strolling down a main thoroughfare and you chance upon a vast panorama of leather regalia, rainbow flags and colorfully decorated floats. You've stumbled upon the most flamboyant section of the gay pride parade. Suddenly, you feel an uneasiness giving way to terror, but you're not sure why. Congratulations, you're the proud owner of chromophobia, the fear of bright colors. Or you're just a homophobe. Shame on you.
Famous Chromophobes:
Billy Bob Thornton, a man who housed just enough crazy to land Angelina Jolie, has plenty of other crazy to accessorize with it. On top of being an admitted chromophobe, he has a recorded history of fearing plastic cutlery, as well as antique furniture.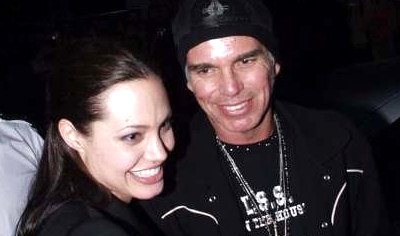 He refuses to inhabit a room with furniture built before 1950, which we guess means he has to maintain an entourage of several qualified antique appraisers or carbon-dating specialists.
Worst case scenario for a chromophobe:
Vegas.
Lepidopterophobia
What is it?
Fear of butterflies.
The savagery of nature can be chilling. Lepidopterophobes remind us that were it not for the advent of long sleeve shirts, we would all be completely exposed to the rabid butterfly hordes fluttering about. Despite their taking great pains to warn humanity about the iradescent-winged scourge at IHateButterflies.com, the rest of us stubbornly insist on living our lives in relative calm. Guess who will be laughing last when our bones are picked clean by voracious butterfly proboscises?
Famous Lepidopterophobes:

Nicole Kidman. So if you were wondering what sort of person believes butterflies are a source of unspeakable peril, first ask yourself if this person would buy into Tom Cruise's heterosexuality long enough to marry him. This principal of psychology is not formally called the Nicole Kidman Principle, but give it time.
Though in all fairness to Nicole, we don't know if this psychosis predates exposure to Cruise or not. If Katie Holmes succumbs to the phobia we'll have confirmation that he's the outbreak monkey for this particular brand of crazy.
Worst case scenario for a lepidopterophobe:
Sitting in the back row of a Phish concert, guaranteeing a dozen of these in view at any time: