They walk among us! Some even fly among us! They may even take the bus among us from time to time! Homosapiens-Superior is here, and can do things that have scientists scratching their heads.
We're carefully tracking their progress, so that one day soon we may gather them together and fight crime. Or maybe commit crimes. We haven't decided yet.
Real Name: Unknown
Uberboy's name is being kept secret, presumably to protect the lives of his loved ones once Uberboy dons a mask and begins patrolling the streets of the world righting wrongs.
Superpower: Bona fide Super-Strength.
One day in 1999 a little baby boy was born in Germany, at first glance no different from any other. But, the nurses noticed that the baby's muscles were twitching and called the doctors to check him out. We can only assume Uberbaby was showing off his guns to the ladies since when doctors examined the kid, they reached a unanimous conclusion: he was ripped as hell.
But how did this happen? Was there a fully equipped gym inside his mom's uterus? No, as it turns out that's an extraordinarily stupid idea. It's actually a real X-Men-style genetic mutation that changes the way his body controls muscle growth. Cattle farmers have been intentionally using it for years to breed huge, muscular cows.
It's not clear what will happen as Uberboy grows up. All we have is this quote that is from The Washington Post despite sounding like it's from a Marvel origin: "But inasmuch as no one has ever encountered a child such as this boy or studied animals with defective myostatin genes into old age, his health--and eventual strength--remains unknown."
What we do know is that at 4-years-old, Uberboy could lift six times more weight than an average kid. If in a few years you see a guy clubbing a bank robber in the head with a minivan, you'll know what the hell is going on.
Scientists, instead of building giant laser shooting robots to hunt him down, decided to study him and try to find ways to use this new knowledge to help people with muscle dystrophy. And by that we assume they mean turn regular people into muscle-bound supermen to populate their Army of Doom.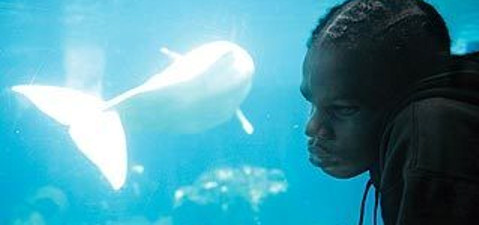 Real Name: Ben Underwood
Superpower: Super Echolocation
That's a fancy way of saying he can "see" with sounds. Basically he's Daredevil, minus the girlfriends who become porn stars in Mexico, getting killed by ninjas and being Ben Affleck. So much, much better when you think about it.
Human echolocation is not really new. You can ask James "the blind traveler" Holman all bout it, assuming you have access to a working Ouija board since the guy has been dead for a century and a half. There is even an organization called World Access for the blind that teaches people how to use echolocation. But, few people have been able to take echolocation as far as Ben Underwood.
Ben was diagnosed with retinal cancer at the age of two and had his eyes removed at three. While this can easily go into our upcoming article "Top 7 Most Horrible Things God Can do to Children," Ben's story takes a different turn when at five, he learns he can detect things around him by making quick clicking noises with his tongue.
He's gotten so good at it that he's now capable of Rollerblading, skateboarding, playing basketball, foosball and even video games.
Wait, video games? How's he doing that? Actually, we don't want to know. All we know is that if you get this kid and a bunch of bad guys in a completely dark room, only one of them is walking out.