Some fictional badasses come with a certain level of credibility. Watching a dead eyed Sylvester Stallone machine gun an entire Vietnamese village to shreds, we had no trouble believing John Rambo could rip our throats out if the situation called for it.
Other times, however, you really get the feeling that 100 percent of a character's fighting ability is due to clever editing and a script that calls for his opponents to fall down at his touch. With that in mind, here are seven supposed badasses who we're pretty sure you could take in a fight:
Strengths:
Good handyman abilities; high tolerance for menial, mind-numbing work, creative costume designer; able to take a good beating.
Weaknesses:
Fairly limited formal instruction in martial arts, little to no musculature, fighting techniques consist of "special" moves of questionable usefulness.
How You Can Beat Him:
The Karate Kid is hardly an imposing specimen, and his fighting style consists mostly of looking scared while trying to remember the four actual moves he was taught. While he gets props for being able to take a punch--repeatedly and to many different areas of his body--such a fighting style is generally not conducive to winning a fight. We like your chances.
He relies heavily on some obscure technique that seems to require his opponent to rush blindly into it. So when you see him propped up on one leg, your obvious strategy would be to go low and kick his other leg out from under him. That should be followed by a righteous stomping from the top. This should provide a better chance of success than the Cobra Kai's favored tactic of running at him chin-first with their arms behind their back.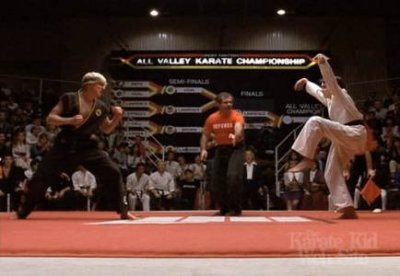 Further research (that is, watching the second film) should teach you not to make the opponent's mistake of falling for the same trick ... 50 times in a row.
Yes, while the old block-and-punch maneuver is mighty clever, we'd suggest changing the approach once you get hit by it once, and not allow yourself to be knocked unconscious by getting smacked with the same move for five straight minutes. We learned our lesson on that back in 5th grade.
Strengths:
Well trained; access to lots of firepower; Mr. T.
Weaknesses:
Poor marksmanship; internal bickering; lack of focus; wanted by the law.
How You Can Beat Them:
At first glance it would seem that you'd have no chance at this supposed crack commando squad. However, careful analysis shows the A-Team succeeded due to the incompetence of their opponents more than their own fighting abilities.
Assuming they're even able to bring the whole A-Team to the fight (meaning they were able to break Murdoch out of whatever mental hospital he is in and try and shoot B.A. Baracus with tranquilizer darts to get him onto the plane), their chances of success are still slim. Even with their military training and access to a seemingly unending supply of ammunition, the A-Team never successfully shot anyone during their career as mercenaries.
As you can see, the team seemed completely unfamiliar with the concept of aiming their rifles, just firing randomly in the direction of their enemies. Note that when we said they never successfully shot anyone, we're not counting the hundreds of bystanders they likely gunned down with their hail of stray bullets.
Now, if the TV series is any guide, you'll be tempted to lock the team away somewhere and patiently wait for them to cobble together a tank out of old plywood and scuba tanks. Instead of doing that, try just shooting them instead.