Basically, robots can make everything cooler, from wars to weddings. Hollywood knows this and tries, when possible, to give us what we crave in the form of kickass robots with kickass abilities.
Most of the time, though, these robots that look so cool on screen are so incompetent at their jobs, they'd have had better luck just sending a random intern to do it. Such as: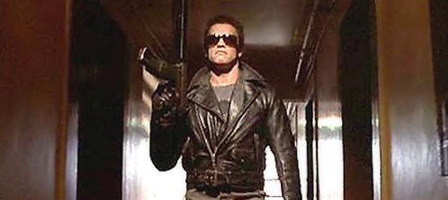 Terminator asks us to believe a computer becomes sentient and begins building an army of machines to wipe out the humans who survive the nuclear holocaust that the computer creates. Machines that look like kickass chrome skeletons with laser Gatling guns and shit, stomping across fields of skulls, grinning like Dick Cheney.
Then the computer, demonstrating child-like frustration at having only murdered about 5.8 billion people, sends a Terminator back in time to take out the most annoying human before he knows how to fight back. At this point a cocker spaniel-haired waitress and then her smart-ass kid, manage to outwit the thing three different times.
That alone should be proof of the laughable incompetence of the grossly misnamed Terminator. But it gets worse.
As witnessed in T3, Arnold Schwarzenegger's Terminator (a T-800) has a little battery thing in his chest that basically acts like a nuclear device when he needs it to. Why didn't the original, whilst crawling through the machines that eventually crushed it, just use that to kill Sarah Connor? We may never know.
You'd be tempted to call the T-800 the lamest possible Terminator, but in the sequel, Skynet sends back a super advanced T-1000. So advanced it has to be within reaching distance to kill someone since it can only stab. Apparently sending the terminators back in time with some kind of pamphlet on how to build an effective bomb was out of the question, as was programming them to not ask the name of their victim then stare at them for an extended period of time before slowly drawing a weapon.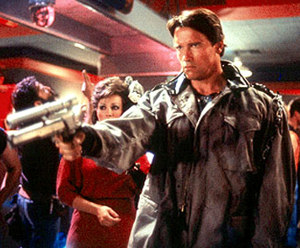 The cruel irony of it all is, with an army of machines that incompetent, it didn't take John Connor to wipe them out. All mankind needed to do was find a hiding place until the machines accidentally killed themselves somehow.
Brainchild of the most sinister man in all of future Detroit, Dick Jones, the ED-209 is the most kick-ass fully-armored chicken ever. Inspired by anime and probably one or two video games, Eddie was a hard ass, even if he didn't work quite right.
So what's the problem? As a law enforcement robot, we're left to wonder, even if it didn't malfunction, what exactly was it planning on doing? It doesn't have hands, or any ability to transport people to jail. It just has giant machine guns. Was there actually a more peaceful way to end this scenario?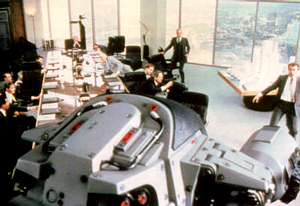 If these had been mass produced and set free in town, could they even issue traffic tickets or just blow the shit out of people who double park?
And, no, we can't avoid mentioning that the thing was ultimately defeated because it couldn't walk down a flight of stairs.