So what did you do to earn your manhood? At the very worst, some of you had to read a prayer or two from a select holy book, maybe a distant uncle sent you a few bucks. Your parents start bugging you about getting a job and force you to move out by the time you're 20, or maybe 35.
But in some parts of the world, manhood is still something you earn.
When you're a member of the South Pacific Vanuatu, by the time you get to be eight-years-old or so it's high time to prove your masculinity. And what better way to prove you're ready to take on the challenges and responsibilities of adult life than stripping naked and bungee diving off a rickety 100-foot-tall platform?
Oh, and instead of stretchy bungee cables, they use vines. Those things that have been known to drop grapes and tomatoes every once in a while. They will show absolutely no give when you run out of slack and you're still hurtling toward the earth at hundreds of miles per hour. That will show no remorse when you plummet to your death. Vines.
The ritual is intended to impress both the gods and the ladies. Maybe you're thinking, "Hey, tourists do that sort of thing all the time! That's not so terrifying!" The Vanuatu people also realized that and decided that the gods would only be impressed if the boy's head touched the ground.
Jump, plummet 100 feet, hit the ground, don't die. We're not sure why the Vanuatu need to appease gods, because if you can pull off that combo, you're damned immortal in our books.
Australian Aborigines Take Circumcision to a Whole New Level
Waiting until you're a teenager to get circumcised should be terrifying enough, but a lot of indigenous tribes actually do that as a rite of passage. The Aborigines decided they had to find a way to multiply the terror that surrounds your typical teenage penis-cutting incident. Brace yourself:
The ceremony begins by taking a 15- to 16-year-old boy to a secluded place with a number of tribesman. Then begins a several-hour-long chant that's supposed to relax the boy, but we're assuming will do absolutely nothing if he knows what's coming.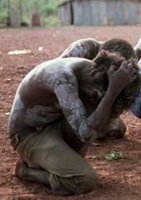 Then, two men get on their hands and knees together, and the boy clambers on top of their backs. If ever in the future you find you're in need of a late-in-life circumcision, we challenge you to replace the operating table with two nearly-naked, chanting tribesman. While they do their cutting, the boy is expected to show no signs of pain. You know, because only children feel pain when their penises are cut.
Then, with that fresh in his mind, they make him wait about a week. That's when a second operation is performed. Jens Bjerre, one of the very few men to have witnessed this ceremony, documented it in his book, The Last Cannibals:
"A hole was pierced right through his sex organ near the root, and there was inserted into it, at either end, a splinter to keep the aperture from growing together again. The object was to ensure that henceforth the urine and the sperm would be ejected through this little hole high up on the sex organ, instead of by the normal channel."

Guess what they're all watching.
Just let that soak in for a minute.
The idea is these guys can now have sex without impregnating a woman unless they cover the newly made hole.
In case you've forgotten, or blocked it out, all of this is done with no anesthetic to ease the pain, other than a bunch of men repeating the same phrase over and over again.