Psychologists know you have to be careful when you go poking around the human mind because you're never sure what you'll find there. A number of psychological experiments over the years have yielded terrifying conclusions about the subjects.
Oh, we're not talking about the occasional psychopath who turns up. No, we're talking about you. The experiments speak for themselves:
The Asch Conformity Experiment (1953)
The Setup:
Solomon Asch wanted to run a series of studies that would document the power of conformity, for the purpose of depressing everyone who would ever read the results.
Subjects were told that they would be taking part in a vision test, along with a handful of people. The participants were then shown pictures, and individually asked to answer very simple and obvious questions. The catch was that everybody else in the room other than the subject was in on it, and they were were told to give obviously wrong answers. So would the subject go against the crowd, even when the crowd was clearly wrong?
The Result:
Questions the subjects were asked were like the puzzle shown here:
All they had to do was say which line on the right matched the one on the left. As you can see, Asch wasn't exactly asking these people to design the next space station. Really, the only way you could get the line questions honestly wrong is if you took two doses of LSD that morning and rubbed them directly on your eyeballs (which would have made for an even more awesome experiment, but we're getting off the point).
Yet, sadly, 32 percent of subjects would answer incorrectly if they saw that three others in the classroom gave the same wrong answer. Even when the line was plainly off by a few inches, it didn't matter. One in three would follow the group right off the proverbial cliff.
What This Says About You:
Imagine how much that 32 percent figure inflates when the answers are less black and white. We all tend to laugh with the group even when we didn't get the joke, or doubt our opinion we realize ours is unpopular among our group. So much for those lectures you got in elementary school about peer pressure and "being brave enough to be yourself."
"Well, it's a good thing I'm a rebellious non-conformist," many of you are saying. Of course, for virtually all of you, the next step is to find out what the other non-conformists are doing ...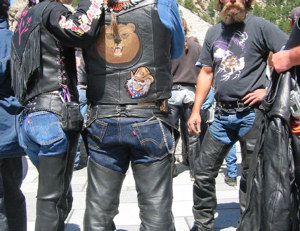 ... and make sure you conform to it perfectly.
"Wait, you're right! Surely we must rebel against this mindless herd mentality! Let's all take to the streets!"
The Good Samaritan Experiment (1973)
The Setup:
The Biblical story of the Good Samaritan, if you hadn't heard, is about a passing Samaritan helping an injured man in need, while other, self-righteous types walk right on by. Psychologists John Darley and C. Daniel Batson wanted to test if religion has any effect on helpful behavior.
Their subjects were a group of seminary students. Half of the students were given the story of the Good Samaritan and asked to perform a sermon about it in another building. The other half were told to give a sermon about job opportunities in a seminary.
As an extra twist, subjects were given different times that they had to deliver the sermon so that some would be in a hurry and others not.
Then, on the way to the building, subjects would pass a person slumped in an alleyway, who looked to be in need of help. We like to think Darley and Batson beat the crap out of some random dude to make it more realistic, but sources say otherwise.

C. Daniel Batson probably did not beat a homeless dude
The Result:
The people who had been studying the Good Samaritan story did not stop any more often than the ones preparing for a speech on job opportunities. The factor that really seemed to make a difference was how much of a hurry the students were in.
In fact, if pressed for time, only 10 percent would stop to give any aid, even when they were on their way to give a sermon about how awesome it is for people to stop and give aid. Though to be fair, if you were late for a class, did your professor ever accept, "I had to stop and help a wounded traveler" as an excuse? Probably not unless you could produce the guy's blood-stained shirt as evidence.
What This Says About You:
As much as we like to make fun of, say, anti-gay congressmen who get caught gaying it up in a men's bathroom and pointing out Al Gore's resource-hogging mansion ...
... the truth is us common folk are just as likely to be hypocrites as the politicians. After all, it's much easier to talk to a room full of people about helping strangers than, say, actually touching a smelly and bleeding homeless man. So even pointing out their hypocrisy becomes a form of hypocrisy.
And in case you thought these results were just restricted to hypocritical seminary students, turn on the news. Remember a few years ago when cameras captured at least a dozen cars refusing to stop for an injured woman laying in the road?
Just like the students, they all had to be somewhere. The drivers were presumably proud enough of themselves just for swerving to miss her, rather than squishing her like roadkill.
Which brings us to ...