The Bizarre History of 10 Common Sayings
A lot of the English language seems to have been developed as some kind of elaborate practical joke. It's full of little sayings and idioms that on their face make no sense at all, and if traced back to their origins are downright horrifying.
Right or wrong, these 10 sayings have some of the strangest (and most unsettling) histories:
#10. "Rule of Thumb"
Now Means:
A common or ubiquitous benchmark. As in, "The rule of thumb is one part tonic to four parts gin."
Most say it came from ...
17th century English Judge Sir Francis Buller, who allegedly ruled that it was A-OK for a husband to beat his wife with a stick, given that said stick was no wider then his thumb.
This is the stuff that white trash dreams are made of.
So is that true?
As it turns out there isn't any record of Buller actually making this ruling, though he was known to be a big powdered wig-wearing dickhead to everyone around him regardless of sex. Still, roughly a year after the supposed ruling, British satirist James Gillray called out Buller in this cartoon, selling his thumb-width wife beating sticks:
So why would Gillray create this poster if the ruling it referenced didn't exist? Who knows. Maybe it was already an urban legend back then. The truth of the phrase is that it likely just refers to carpenters and tailors who, without a ruler handy, would just measure things in thumb-lengths. We tried digging up evidence that they were using actual severed thumbs for the task, but even that turned out to be too awesome to be true.
#9. "Bite the Bullet"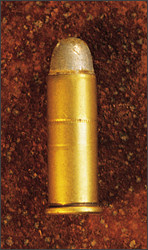 Now Means:
Accepting something difficult or unpleasant. As in, "You're going to have to bite the bullet and admit you killed that hooker."
Most say it came from ...
When engaged in war there are times when emergency surgery is needed: Legs have to come off or deeply-buried bullets need to come out. And sometimes, there's no time for anesthesia when the Nazis are bearing down.
So, rather then stabbing a patient in the arm to distract him from the saw going through his foot, the surgeon would supposedly shove a bullet in his mouth and ask him to bite down. Of course, you could use a belt or shirt but even in the throes of death it's important for a man to look like a badass. Thus, "Bite the bullet."
So is that true?
All signs point to yes. And thank God for that, as we would hate to think that a soldier being operated on with no medication in the middle of a battle is some kind of pussy-ass cloth biter.
But, notice how we said "All signs point to yes" and not a definitive "yes." Nailing down the origins of these sayings is an inexact science. The only other popular theory has to do with the preparation of bullet before firing (in old carbine rifles, you had to bite a paper cap off the cartridge so the spark could reach the gun powder).
That one would of course make no damned sense, since no one would equate that task with resolutely doing something unpleasant. You might as well say it's about that dude who claimed to catch bullets out of the air in his teeth. In fact, let's just go with that one.
#8. "Basket Case"
Now Means:
One that is in a completely hopeless or useless condition. As in, "The new supervisor got his dick caught in the copier again. What a basket case."
Most say it came from ...
The supposed origin came about during World War I and was used to describe servicemen that had all of their limbs either surgically or explodingly removed--leaving them as nothing more then torsos that would have to be carried in a basket. Yes, like in that Metallica video.
So is that true?
Again, it's a yes and no answer. Yes, there were servicemen that went home sans all limbs during the World Wars, but only two documented cases and there were no reports of either of them being carried off in baskets of any kind.

Also, it was a 1982 horror movie
Confusingly, the earliest recorded uses of the phrase were from US military statements claiming no such limbless soldiers existed. One way or another, it doesn't seem like there were enough cases to create a whole phrase to describe them. Why have a term for something that doesn't exist? Then again we have a word for "leprechaun" so, why not.
#7. "Bust Your Chops"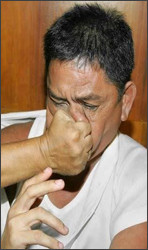 Now Means:
To give someone a hard time. As in, "Yes, I'm late and I'm not wearing pants. Don't bust my chops."
Most say it came from ...
There was once a time in the world when it was considered cool to sport a long, ridiculous pair of mutton chop side burns. From America to England, Russia to ... some other place even further away than Russia, the civilized global population couldn't get enough of these peninsula-shaped patches of hair.
Then, these people got punched in the face--their "chops busted," if you will--and an idiom was born.
So is that true?
Even though there is no definitive proof to back this up, this seems to be the only theory going. Also, it involves stupid looking facial hair, so it has that going for it.
It's just too bad that as regal and dignifying as the chops were for our founding fathers they only made hippies in the '60s seem like unwashed piles of tie-dyed failures. To this day the only people able to successfully pull off mutton chops are old-timey gold miners. If you have the chops in question and you are not one of these three, please, shave now or prepare to have them busted.
#6. "Raining Cats and Dogs"
Now Means:
A torrential rain. As in, "It's raining cats and dogs. Which sucks because my hat is made of pure sodium."
Most say it came from ...
In the 1500s human beings had the pleasure of living in homes with thatched roofs which, keep in mind, had the ability to repel winds no stronger than a burrito fart. In these strange times, humans for some reason didn't want their pets shitting in their homes and so they were always kept outside. The animals would keep themselves warm in the little nooks in the thatching on the roofs and store their food and porno up there for a rainy day.
When an especially rainy day did come along, the animals would either get washed off of the roof or would come leaping down looking for better cover. The story goes that the townsfolk would look out their window, see pets falling from the sky, and proclaim it to be "raining cats and dogs." Then they would probably burn a witch or something.
So is that true?
Apparently the saying didn't come about until the 17th century, not the 16th. Also, this story was popularized by a 1999 chain email that is entirely comprised of rather pungent bullshit. So, we'll just move on and call this a complete lie.
Unfortunately there are so many suggested origins of this one that it's hard to tell if any of them are more than legends mutated by time and people who like to lie. One story says 17th century sewage systems (if the town even had one) were prone to massive flooding, washing out dead dogs and cats that had fallen in. This would leave some to believe that dead animals were literally falling from the sky. Why the sight of a dead animal on the ground would cause anyone to assume it fell from the heavens, as opposed to just falling over dead the normal way, is anyone's guess.
Others claim it goes all the way back to Norse mythology (the storm god Odin had two hounds). Still others say it has to do with the freak occurrence of frogs or fish falling from the sky (after being swept up by storms and flung miles away) and that the saying "it's raining cats and dogs" is just a way to say it's raining even harder than the time it rained fish. Still it seems like a catchier idiom would have been, "It's raining bears!" or "It's raining human babies! Quick, catch the babies!" followed by frenetic screaming.
Anyway, there's no hard and fast proof for any of them so take your pick.