A lot of the English language seems to have been developed as some kind of elaborate practical joke. It's full of little sayings and idioms that on their face make no sense at all, and if traced back to their origins are downright horrifying.
Right or wrong, these 10 sayings have some of the strangest (and most unsettling) histories:
Now Means:
A common or ubiquitous benchmark. As in, "The rule of thumb is one part tonic to four parts gin."
Most say it came from ...
17th century English Judge Sir Francis Buller, who allegedly ruled that it was A-OK for a husband to beat his wife with a stick, given that said stick was no wider then his thumb.
This is the stuff that white trash dreams are made of.
So is that true?
As it turns out there isn't any record of Buller actually making this ruling, though he was known to be a big powdered wig-wearing dickhead to everyone around him regardless of sex. Still, roughly a year after the supposed ruling, British satirist James Gillray called out Buller in this cartoon, selling his thumb-width wife beating sticks:
So why would Gillray create this poster if the ruling it referenced didn't exist? Who knows. Maybe it was already an urban legend back then. The truth of the phrase is that it likely just refers to carpenters and tailors who, without a ruler handy, would just measure things in thumb-lengths. We tried digging up evidence that they were using actual severed thumbs for the task, but even that turned out to be too awesome to be true.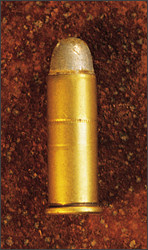 Now Means:
Accepting something difficult or unpleasant. As in, "You're going to have to bite the bullet and admit you killed that hooker."
Most say it came from ...
When engaged in war there are times when emergency surgery is needed: Legs have to come off or deeply-buried bullets need to come out. And sometimes, there's no time for anesthesia when the Nazis are bearing down.
So, rather then stabbing a patient in the arm to distract him from the saw going through his foot, the surgeon would supposedly shove a bullet in his mouth and ask him to bite down. Of course, you could use a belt or shirt but even in the throes of death it's important for a man to look like a badass. Thus, "Bite the bullet."
So is that true?
All signs point to yes. And thank God for that, as we would hate to think that a soldier being operated on with no medication in the middle of a battle is some kind of pussy-ass cloth biter.
But, notice how we said "All signs point to yes" and not a definitive "yes." Nailing down the origins of these sayings is an inexact science. The only other popular theory has to do with the preparation of bullet before firing (in old carbine rifles, you had to bite a paper cap off the cartridge so the spark could reach the gun powder).
That one would of course make no damned sense, since no one would equate that task with resolutely doing something unpleasant. You might as well say it's about that dude who claimed to catch bullets out of the air in his teeth. In fact, let's just go with that one.