Dinosaurs once ruled the land, air and sea with an iron fist. While that iron fist was often connected to ridiculous, tiny baby arms, it should be noted that those tiny arms were attached to giant motherfucking lizards that, were they alive today, would be lounging atop the food chain sipping giant tropical drinks with people garnishes.
But because God decided to take them down the only way He could (cheating), we live in a world where these magnificent bastards are named by snooty, stuffed shirts who, for some reason, give them the lamest names possible.
Bambiraptor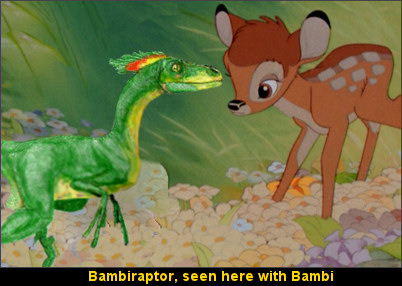 This tiny flesh-eating creature stood no more than a foot tall and barely weighed four and a half pounds. The first skeleton was discovered by a 14-year-old hunting for dinosaur bones with his parents in Glacier National Park in Montana. Scientists named it after Disney's most famous deer, probably both because it was about the same size as Bambi and because they wanted to shame it for being dead.
Scientists from Yale, the University of Kansas and the University of New Orleans are to blame for giving the cousin of the feared velociraptor such a wuss name. Pairing "Bambi" with a bad ass word like "raptor" doesn't help. The cute neurons that circle the name Bambi will always overpower any manly name it's paired up with: Bambi Stallone, Bambibear, Bambi Steak.
The name as a whole just makes you feel more pity than fear. If you encountered a lone Bambiraptor wandering in the wilderness, you'd probably think the poor little guy was alone and hungry after some bloodthirsty hunter shot his mother in the name of sportsmanship. Of course right after you cooed and tickled under it's jaw, it would jump up and rip out your jugular.
Scrotum humanum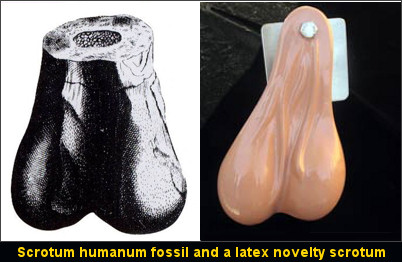 We're not sure whether or not we should have preserved Scrotum Humanum for the Most Awesome Dinosaur Names article. So how did it wind up with it? It's kind of a long story.
The first dinosaur bone ever discovered was found in 1676 in a quarry in England. Several other parts of the dinosaur were found and in 1815, when William Buckland, Professor of Geology at the University of Oxford, bestowed it the perfectly acceptable name of Megalosaurus, Greek for "great lizard."
One hundred years later, apparently not satisfied with this perfectly manly sounding name, Richard Brookes named it Scrotum Humanan, because he thought the original bone fragment (above) looked like a nutsack.
When naming a leg bone that's most remarkable feature is that it's too big to be from any known creature, and you decide to go with the fact that it vaguely resembles a pair of balls, we're guessing that has less to do with the bone and more to do with the time you walked in on your Dad masturbating in the shower.
Technically this isn't the dinosaur's official name anymore, as it fell into disuse for 50 years, apparently the scientific expiration date for retarded names. People for some reason have gone back to using Megalosaurus. We have no idea why.