If you're an American male between the ages of 21 to 35, there's a good chance you farted away most of 1992 playing Street Fighter 2: The World Warrior on your Super Nintendo. The game sold more than six million copies, single-handedly popularized an entire video game genre and spawned dozens of imitators (we're talking to you, Mortal Kombat).
Unfortunately, we're afraid the game gave a whole generation of young males a skewed version of the world.
Contrary to popular belief, the Orient is populated entirely by Caucasians.
Strangely enough, all of Street Fighter's supposed Asian characters would not look out of place in an Indianapolis Cracker Barrel. We're not sure if the game's Japanese programmers were closet Europhiles, but the proof is in the pixels: if you're from the Pacific Rim, you might as well be from Des Moines.
Perhaps the easiest way to understand the sheer pastiness of SF2's Asian fighters is to match them with celebrity analogues. Compare the studied gaze of Japanese karate master Ryu with the constipated stare of Karate Kid Ralph Macchio ...
... the stately cleft chin of Thai strongman M. Bison with that of Dudley Do-Right ...
... and the "tall, bald, and cyclopean" look of Muay Thai champion Sagat with Dennis Hopper's Razzie-winning role as "The Deacon" from Waterworld.
It's harder to pin down the celebrity genealogy of sumo wrestler E. Honda, but we at Cracked have done it. He is the terrifying love child of Luciano Pavarotti, Richard Nixon and the Ultimate Warrior.
The lesson:
A lesson in racial harmony. You may be Japanese or Chinese or Thai on the inside, but on the outside, we're all white.
Beating a woman in public is accepted in all cultures, and sometimes the cause for great celebration.
In many stages in Street Fighter 2, enthusiastic spectators watch on, setting aside their native tongues to cheer in the lingua franca of bloodlust. This is mildly disturbing but not out of the ordinary. After all, every society has some form of popular, culturally sanctioned violence, such as soccer hooliganism or the stoning of infidels.
However, the onlookers' zeal becomes particularly creepy when no one bats an eye at the sight of an American black belt assaulting a tiny Chinese woman.
Deep in the jungles of Brazil, Gunnar Nelson look-alike Ken burnishes Chun-Li's face with his naked size 11. The villagers are just as blasé as when they saw Ken's pyrokinesis. They may as well be doing their taxes.
Though to be fair to the fine people of Brazil, they are equally unimpressed when Ken lobs a fireball at hometown favorite Blanka. The locals are appreciative yet expressionless. Perhaps that is just their way.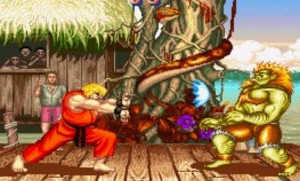 "So what," you think. "Some backwater in Brazil tolerates the battering of women. That would never happen in the US of A!"
On the contrary! It does happen in the US! On the Las Vegas Strip, in fact! And they hold a parade to root you on! With showgirls!
Welcome to America. Ike Turner's America.
The lesson:
The casual, violent misogyny of Street Fighter 2 means one of two things. Either A.) Feminism has advanced to such insane levels that women were now fair game for fistfights, or B.) We live in some ass-backwards bizarro world where Saudi Arabia is a member of the UN Human Rights Council. But that could never happen, right?