7 Insane Conspiracies That Actually Happened
People love a good conspiracy theory. The JFK assassination plot, aliens crash landing at Roswell, the 9/11 truth movement and charges of government surveillance are all an indelible part of our pop culture landscape and are by and large, total bullshit.
So where does your average conspiracy buff go to learn about shadowy plots that aren't pure tinfoil hattery?
Look no further.
#7. The Business Plot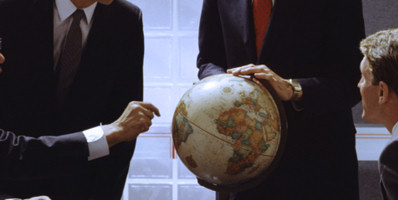 The Plan:
In 1933, group of wealthy businessmen that allegedly included the heads of Chase Bank, GM, Goodyear, Standard Oil, the DuPont family and Senator Prescott Bush tried to recruit Marine Corps Major General Smedley Butler to lead a military coup against President FDR and install a fascist dictatorship in the United States. And yes, we're talking about the same Prescott Bush who fathered one US President and grandfathered another one.

Prescott Bush
How did that work out?
A good rule of thumb: never trust a man named Smedley to run your hostile military coup for you. Besides being no fan of fascism, Smedley Butler was both a patriot and a vocal FDR supporter. Apparently none of these criminal masterminds noticed that their prospective point man had actively stumped for FDR in 1932.
Smedley spilled the beans to a congressional committee in 1934. Everyone he accused of being a conspirator vehemently denied it, and none of them were brought up on criminal charges. Still, the House McCormack-Dickstein Committee did at least acknowledge the existence of the conspiracy, which ended up never getting past the initial planning stages.
Though many of the people who had allegedly backed the Business Plot also maintained financial ties with Nazi Germany up through America's entry into World War II. But at least the United States never ended up becoming a fascist dictatorship (unless you ask Ron Paul supporters).
The lesson here? Fascist or not, you don't fuck around with guys named Smedley or Dickstein.
#6. The July 20 Plot
The Plan:
Near the end of WWII, things were rapidly going south for Germany and the time seemed ripe for guilt-ridden Nazi officers to assassinate Hitler and overthrow his government. Colonel Henning von Tresckow recruited Colonel Claus von Stauffenberg to join the conspiracy in 1944.
The plot to take out Hitler and then all of his loyal officers was called Operation Valkyrie, based on the belief that no plan can fail if it has a cool enough name.
How did that work out?
In July 1944, Stauffenberg was promoted so that he could now start attending military strategy meetings with Hitler himself. On more than one occasion Stauffenberg planned to kill Hitler at such a meeting with a briefcase bomb, but he always held off because he also wanted to take out Hitler's two right-hand men, Hermann Goering and Heinrich Himmler. On July 20, he went for it anyway and exploded a bomb inside Hitler's conference room with a remote detonator.
Hitler, who as a level-20 dark wizard had extraordinary damage absorption abilities, survived with only minor injuries.

Photos taken after the attempt depict Hitler's health at 100 percent.
Stauffenberg fled when he found out his assassination attempt had failed and that the Fuhrer was explosion-proof. When the other conspirators found out that Hitler was still alive, they lost their nerve and Operation Valkyrie never went into effect. After the coup never got off the ground, several conspirators committed suicide, and Fromm turned in the rest to save his own skin. Unfortunately for him, Hitler wasn't nearly as forgiving as his fiery public speeches and penchant for genocide would lead you to believe, and Fromm was executed along with the remaining conspirators.
The good news for the legacy of Claus von Stauffenberg is that he's become something of a folk hero in Germany, a symbol of conscientious resistance to the Nazi regime. They're even making a movie about him, called Valkyrie. The bad news for his legacy ...
... is that he's going to be played by Tom Cruise. Hey, do you think Scientology will get a mention in this article? Stay tuned!
#5. Operation Ajax
The Plan:
For years, Britain had a spiffy trade deal with Iran regarding their prodigious oil fields. The Anglo-Iranian Oil Company was basically a giant money machine for the Anglo half, while the Iranian half got shafted. That all changed in 1951 when Iran nationalized the AIOC and the Iranian parliament elected Mohammed Mossadegh as Prime Minister. Mossadegh was relatively secular, something that pissed of Iranian clerics, but he was also very nationalistic. When Britain tried to regain control of the AIOC, he gave them the finger. Tea was spilled, crumpets were dropped and monocles everywhere popped out in shock.

Britain
You can guess what happened next. Jolly old England went to its ally, the United States, and convinced President Dwight D. Eisenhower to help overthrow the democratically elected leader of Iran and install a pro-West monarchy. Together the CIA and British intelligence services funneled guerrilla troops, anti-Mossadegh propaganda and tons of bribes into Iran.
How did that work out?
In the short term? Great! The mostly ceremonial position of Shah (king) of Iran was restored to its former imperial glory, but this time as a puppet of the West. The White House and Tehran became BFFs, and as long as the US government overlooked the numerous human rights abuses happening in Iran, all was well.
Until 1979, that is, when a pissed off Iranian populace finally revolted and replaced the monarchy with an anti-West Islamic Republic. One messy hostage crisis later, and Iran and the US were no longer BFFs. But hey, at least the US learned a very important lesson about overthrowing the governments of unfriendly Middle Eastern countries.
#4. The Gunpowder Plot
The Plan:
A group of conspirators (including Guy Fawkes, Natalie Portman and Hugo Weaving) decided to blow the fuck out of the British House of Parliament, thus killing pretty much all of the aristocracy, as well as King James I.
In May of 1604, a group of Britons who were fed up with King James's rule met with Robert Catesby. As Catholics, they were tired of the Protestant government. In accordance with the teachings of their faith, they apparently decided that the best way to solve their problems was to kill everyone.
The conspirators were taking up residence across the street from The House of Lords, the building the upper house of parliament met in. Their original plan was to burrow their way to the underground foundation of The House of Lords, and lay their explosives there. When that proved to be more difficult than they had originally planned, they decided to just rent a room in the cellar of building. The explosives were quickly moved into place, and all that was left was to wait for the annual Opening of Parliament.
How did that work out?
While they were waiting, one of the conspirators sent a letter to Lord Monteagle, a high ranking Catholic, which basically said, "Hypothetically, we could blow up Parliament on the day it opens this year. So don't go, hypothetically speaking." This proved to be their undoing, as Lord Monteagle immediately passed the news on to the Secretary of State. The House of Lords was searched, and Guy Fawkes, the man left in charge of watching the explosives, was found and arrested.

Lord Monteagle
None of the protestant politicians were killed, but the plan wasn't a complete failure. King James admitted in a speech that not all Catholics were as crazy as the ones arrested in connection with the plot, which is good, because a lot of historians have suggested that if the plot succeeded, there would have been a very violent backlash against Catholic communities. Plus, England now celebrates Guy Fawkes night every November 5th.
Apparently the conspirators had also planned to kidnap the royal children, as well as incite a revolt. However, they never made it to this part of their plan due to the fact that they had been hung and eviscerated.