If the music industry really wants to save itself, it could start by doing away with all the bullshit. What bullshit, you ask? Here are six underhanded tricks that we could live without, and that our kids probably will.
Worst Offenders:
Kid Rock, Cher, Uncle Kracker, T-Pain
How it Caught On:
Frequently mistaken for a vocoder and more commonly known as "That Fucking Weird Computer Voice Thing," Auto-Tune is actually a brilliant piece of software. All you have to do is tell it which notes you're trying to hit while you're singing. When you fuck up, Auto-Tune makes the necessary adjustments so that you can pretend to be a good singer and a weird sounding robot at the same time. Obviously this has made it invaluable in the world of music.
Singers used to spend days trying to get their songs recorded perfectly, and studios charge by the hour. Some would record late at night when their vocal chords were more relaxed. Some (Rod Stewart) even gargled crew-members' love gravy to get that smooth, even tone (allegedly, but the kid who told us about it in high school also had the best weed, so it has to be true, right?). Auto-Tune has made it possible for performers to lower their recording budgets, get some rest, and sidestep such unfortunate homeopathic remedies.
Why it Must be Stopped:
Unfortunately, Auto-Tune has become the HGH of the recording industry. While we doubt that Kid Rock will be facing a grand jury for his blatant abuse of the software in the steaming turd of a song "Only God Knows Why," we can only hope that any future Rock and Roll Hall of Fame inductees who've received such a heaping dose of simulated talent will get an asterisk next to their names. Also, we hope that in the future, an asterisk will resemble a middle finger.
"That Fucking Weird Computer Voice Thing" has made it possible for every paparazzi sweetheart, pop culture freak of the week to record an album and assail our eardrums.
For too long, consumers had been duped into thinking that fame had some sort of direct correlation to talent. Auto-Tune provided yet another step down the road towards the inevitable day when Soldja Boi wins the Grammy in rap, R&B, adult contemporary and operatic solo.
Auto-Tune will be around as long as talented musicians and teenage girls who make men want to masturbate continue refusing to be the same person (allow us a moment to shake our fist at evolution). But rest assured that the current trend of making one's voice sound obviously computerized will not last much longer. Our guess is that, in time, That Fucking Weird Computer Thing will sound as dated as Jeopardy's Daily Double laser sound effect.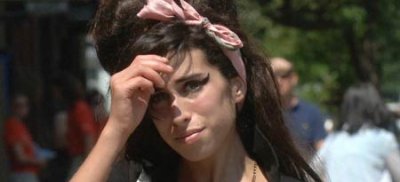 Worst Offenders:
Scott Weiland, Britney Spears, Amy Winehouse
How it Caught On:
In 2007, Paula Abdul appeared on a morning TV talk show, stoned out of her mind on what we imagine was a combination of oxycontin, absinthe, and Drano. This, of course, got people talking, videos YouTubed, and ratings boosted. In the music industry, there's no such thing as a drug scandal because we expect our musicians to be on drugs. We'd be a little disappointed if we found out they weren't. The downside is that publicists have figured out that checking your client into rehab is actually the cheapest way to drum up publicity, assuming the price of street drugs remains lower than whatever Nickelback's manager pays to get them into Rollingstone.
We are a nation of voyeurs, and there's nothing we like to watch more than celebrity sex tapes. But embarrassing celebrity drug freakouts come in a close second. And since sex tapes require that people actually want to watch you have sex (clearly not the case for two of our three worst offenders) chemical dependency is a much easier go-to. It should be noted that it's not as good an idea to combine drugs and sex tapes, as when a cracked out Tom Sizemore played power bottom to a hooker with an elephant trunk-sized slab of rubber strapped to her pelvis.
Why it Must be Stopped:
Repeat offenders have made going to rehab a joke. While regular-ass people rehabilitate in facilities that are just a step up from county jail, Britney Spears spends an extended weekend in Malibu, then Antigua, then Malibu again. These celebrities are giving real addicts a bad name. We'll start taking their problems seriously as soon as we see Scott Weiland barefoot, hauling ass down Sunset Boulevard, clutching a stolen DVD player.
On the other hand, being a regular person in rehab with a celebrity might not be so bad. If that celebrity is Lindsay Lohan, she'll probably have sex with you if you're a dude with a passably functioning penis. This is preferable to having sex with Lindsay Lohan in the bathroom at a club, because in rehab there will be medical help readily available when you come down with a mean case of Hepatitis F.