The Amusement Park is the pinnacle of cultural achievement: technology and resources dedicated purely to people having fun. And we can all agree that history wasn't complete until Walt Disney allowed humanity to experience "The Happiest Place on Earth!" (for a nominal fee).
Now societies throughout the world have their own wondrous amusement parks. And like Disney did for us, their parks reflect their culture's stories, passions and traditions ... and make outsiders cock their heads and say "What the fuck!?"
Diggerland: The Dumpiest Place on Earth!
If you visit this amusement park's website you'll be treated to their wonderful jingle. The fun lyrics infused with surf-rock riffs almost make you forget that this park is nothing more than modified excavation equipment.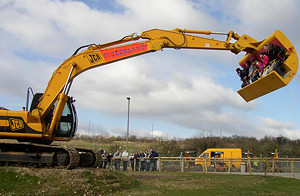 Diggerland, surprisingly, is not located near a NASCAR track, but resides solely in the United Kingdom. That's right, British people pay money to turn fantasy into reality and drive and operate construction equipment. Here in America, that fantasy becomes reality too, and all you need to do is drop out of high school.
One of Diggerland's biggest attractions is the "Dancing Diggers," a 30-minute show featuring five JCBs and a mini loader that perform coordinated musical numbers, daredevil stunts and comedy.
Now if only they could get to work on building an actual amusement park, we'd really be impressed. But even then, it's hard to fully ridicule this park's concept. Haven't we all daydreamed, at least once, of fucking around on a piece of construction equipment? Before anyone gets too excited, keep in mind that all operations are conducted under strict supervision. So the latter half of that fantasy where you plant a back hoe into the windshield of your boss' Corvette will have to wait.
Grutas Park: The Most Miserable Place on Earth!
Also known as "Stalin's World," it resides in the wetlands of Dzukija National Park in Lithuania. The park's theme is the half-century Soviet occupation of Lithuania. That means big on education, short on amusement. The park is a two-mile trek across wooden walkways, enclosed by barbed wire fences and guard towers to help give tourists that authentic Gulag prison camp feel.
Hey, check out the adventure map!
It must be hard to choose between the glowering stone face of Lenin and the sullen, unflinching stare of Stalin. So much to do!
All of the statues represent the men and women who influenced the occupation of Lithuania, with the exception of Karl Marx. Our guess is that of the 46 sculptors who were commissioned, none could do fluffy beards. Every one of the 86 statues include a placard explaining the historical significance, which means reading, a whole lot of reading; about tyranny, death and other unspeakable horrors.
Look, it's Stalin! Erecting several monuments in his image sure will show that murdering bastard what for!