Part of growing up is realizing almost everything your mom said was wrong. This is especially true when it comes to the human body (how many of you grew up with the "masturbation will make hair grow on your palms" thing?) where, as you'll see, mom often failed to do her research.
"If you shave, your facial hair will grow back thicker!"
The Lie:
Fellas, do you remember when you first started getting those wispy specks of hair on your chin? They were patchy and thin, but dammit you loved them, and you knew that it was merely a matter of months before you looked like those guys from ZZ Top. Do you remember what your mom told you? "If you shave your beard/moustache/muttonchops off it will grow back thicker and look much nicer." So you continued shaving it until, sure enough, five years later you had a perfectly serviceable moustache.
The Truth:
Actually, the only reason you ever managed to grow those whiskers was simply time. Renowned (read: gets the most tail) dermatologist Dr. Jerri Hoskyn M.D., says here that, "Shaving is just a method of cutting the hair at the skin surface and has no effect on the part of the hair ... where growth and pigmentation occur." Who's to argue with a man who had to go through eight years of medical school to cure pimples?
So why do moms perpetuate this one? Most likely out of the embarrassment most mothers of pubescent boys feel. It seems you didn't have the good fortune to hit the ground running with puberty like we Cracked staffers did, and it took you a few years to start looking and sounding like Powers Boothe. Consequently you had a fuzzy neck beard, and your parents didn't want to be seen in public with you until you shaved it.
So instead of telling you straight up that you were a repulsive pock-marked abomination and having to hear you whine in your broken girly voice, they simply lied and told you shearing hair makes it stronger and thicker, knowing you would do it--and keep doing it--in a futile attempt look like Grizzly Adams.
"You can't have anymore sugar, you'll be bouncing off the walls!"
The Lie:
All you wanted was another scoop of pure cane sugar in your cherry Kool-Aid, and your mom refused. What the hell! Of course her reasoning is "No, if you have anymore sugar you'll be bouncing off the walls." While we now know she was just telling us she didn't want us getting all hyperactive, you know, running around the house, screaming "child abuse" out of the windows at passers-by, setting the guinea pig on fire and tying our siblings to chairs, it was pretty much the worst thing she could have told us. Instantly our little minds were suddenly filled with visions of being able to defy gravity and ricochet about the house without ever having to touch the floors. In short, your mom told you that you could be fucking Spider-Man if you had more sugar, so you ate the entire bag of sugar.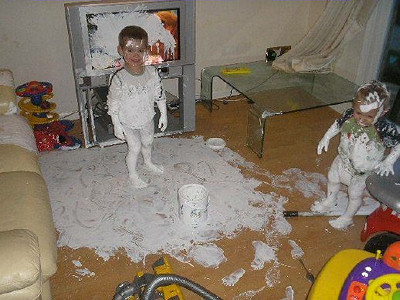 The Truth:
Unfortunately after eating a bag of sugar you didn't become Spider-Man. In fact, the only superhero you became that day was Vomit-His-Stomach-And-Hallucinate-Man. Hell, it didn't even make you hyper.
Your mom was wrong on two counts: first off, gravity is unaffected by sugar. Secondly, hyperactivity is unaffected by sugar. Or at least, that's what dashing professor of neonatology and general pediatrics at UAMS Medical center, Dr. Bryan Burk says here. "No evidence exists that feeding children a high-sugar diet will induce hyperactivity, despite the common belief that it does."
It seems that you need to consume something more along the lines of caffeine, dopamine or crack to achieve any hyperactivity. In fact for some children, sugar may very well have an opiate affect on their brain. In case you didn't know, morphine and heroin are opiates, so when your mom gave you sugar, it may have been like shooting you up with tiny little amounts of smack, and smack addicts are not known as the most active of people.
Of course, the part about sugar destroying your teeth and turning you into a fatass are both still true, so in the end mom was right.