Nothing in the known universe is more badass than a kung fu movie star.
Yet, when a superstar battles his way to the top of Badass Mountain, something happens--something terrible and difficult to watch. These are the men who fell from awesome to ridiculous with horrifying speed:
With all of the embarrassment Seagal has brought upon himself in the last 10 years, it's tempting to forget that he is a bad, bad man.
Steven Seagal is an aikido master--a martial art less concerned with form than inflicting ridiculous amounts of damage to people's load-bearing joints. Seagal began his martial arts career in Japan, where he was one of the first foreigners to open a dojo there. The Japanese taught Seagal aikido, at which point we assume he said something along the lines of "I've got some lessons of my own to teach," then promptly flew to Japan to teach it back to them the right way. If you are pregnant or nursing, have a history of heart condition or stomach problems, please consult a doctor before reading the following list of facts about Seagal, all 100 percent true and each more badass than the last:
1: Steven Seagal is a recognized Tulku--a Buddhist holy man who reincarnates repeatedly by choice; presumably if you kill him, he can choose to come back as a grizzly bear that hungers only for vengeance.
2: Steven Seagal is not only a deputy sheriff in his hometown of Jefferson Parish, Louisiana; he's also on the SWAT Team and is responsible for their training.
3: Steven Seagal adopts homeless animals. Not so badass? His two dogs are named Chaos and Fist. Holy shit! Here's your ass, by the way, you might want it back after Seagal's life knocked it off of you.
Steven Seagal was not an elegant man. His action scenes, unlike their Hong Kong counterparts, were not about elaborate or flashy moves. They were about breaking your arms mostly, in the quickest and easiest ways possible. Seagal showed up dressed in black leather, greased-back hair and gold chains, resembling nothing more than a New York Guido out for kicks on a Saturday night. Then, to everybody's amazement, you watched as he flipped men around his head by the dozens to a soundtrack of bones snapping so fast and in such numbers, it was like setting off Chinese firecrackers in a bowl of Rice Krispies. Seagal took the sometimes condescending sophistication out of martial arts movies. He was there to do business, and may God have mercy on your elbows if you took issue with it.
Most Epic Moment Caught on Film:
This clip from Out for Justice hearkens back to his early days of rapid fire limb-breaking and terrifying, albeit somewhat confusing threats, such as: "Whose hot dog is this, eh? That yours?!" Seagal casually, almost absent-mindedly beats the shit out of most of New Jersey in this video, using a billiard ball wrapped in a bar towel. This clip is six-minutes long and there are six arms broken in those minutes. Take a minute and count 'em. Did you only come up with five? That's because the sixth arm is yours. Go ahead. Check. Then get yourself to a hospital. Tell them Seagal sent you--they've got a special ward all ready to go.
The Sad Decline: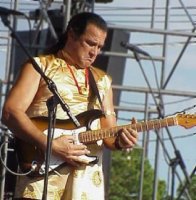 Seagal's martial arts and film career went downhill pretty fast, but even more disappointing than that was his personal descent into the foul and dank valleys of Douchebag County. Early Seagal characters were all about the everyman, they were inner-city cops by and large; unsophisticated and unconcerned with anything but justice, preferably street justice, if you have it. By contrast, Seagal himself became more and more of an unapproachable bottle of dick with every year that passed. He was an early adopter of such douchebag traits as: Fascination with a cheap, cursory sort of Asian spirituality, the sensitive pony-tail, pseudo-environmentalism and of course, the frat boy guitar.
Seagal soon decided to incorporate his newfound love of everything asshole into his movies, and the blue collar cop characters that made him famous gradually morphed into EPA agents protecting rivers and fighting big business. After the repeated failure of his box office releases, Seagal decided to focus on music and cut a blues album called The Crystal Cave, a title which could not spell out 'hippie dickhead' any clearer if you wrote it out on a Hacky Sack and hung it from a puka shell necklace.
Most Pathetic Moment Caught on Film:
This is Seagal's music video, "Girl, it's alright," from the album "Mojo Priest," which manages to one up "Crystal Cave" as the single phrase most likely to cause spontaneous rage-vomiting. Watch carefully for a prime example of douchebaggery as Seagal romances what appears to be a 14-year-old Asian girl in a Buddhist temple while crooning platitudes you usually only hear right before you're date-raped in a Lifetime Network movie of the week. Also watch for Seagal's bloated bulk squeezed into a shimmering gold and red foil two-piece, inadvertently causing him to resemble a 7-11 hot dog.
David Carradine is Elvis of kung fu, having the honorable distinction of helping to pioneer western martial arts movies only by virtue of blatant racism. He is most famous for playing the lead in the 1970s kung fu serial, creatively titled Kung Fu, winning the part from Bruce Lee, even though Lee helped create the show for the sole purpose of acting in it. Apparently no one told Bruce that at that time Chinese people were considered "too Chinese" to play Chinese people.
Carradine is slightly less famous for playing the titular Bill in Quentin Tarantino's gold-plated B-movie and pop culture circle jerk, Kill Bill. He is not famous at all for the remake of Kung Fu, titled even more creatively, Kung Fu: The Legend Continues.
David Carradine was not only on the forefront of the burgeoning martial arts genre, but his role actually created the concept of the karate cowboy; a character which can be seen later in such examples as Chuck Norris' Walker, Texas Ranger or the Patrick Swayze action vehicle (which we would totally drive), Roadhouse. Some die-hard fans consider Carradine a disgrace because of his lack of expertise while starring in Kung Fu (he didn't actually know any martial arts at the time), but to be fair it was the '70s, a time when a man could raise his leg above the knee and spin around and everyone would give him the benefit of the doubt.
Plus, he totally kicked Bruce Lee's ass at being white. While that may not be much of a feat, being better than Bruce Lee at literally anything nets you some tough-guy points.
Most Epic Moment Caught on Film:
In this clip, the famous intro to the Kung Fu series, Carradine lays down several scenes that have since become kung fu movie classics. From the now omnipresent training montage to lifting a burning iron kettle with your wrists, Kung Fu was the first place we saw these things and he was the first guy that made us want to incompetently emulate them, thus endangering ourselves and others.
The Sad Decline:
As it turns out, the ability to look cool greased up in your underwear and screaming declines rapidly with age. At around 55 these conditions reach their peak, and instead of striking fear into your opponents with your powerful yells and intricate body movements, you're more likely to prompt helpful citizens to hit the button on your Medic-Alert bracelet for you. This sad fact, combined with Carradine's natural flower child tendencies, took all the badass right out of his sails and left him hopelessly adrift in Weird Old Hippie Guy waters.
Most Pathetic Moment Caught on Film:
It certainly did nothing to help David's rep as a master of pain distribution when he appeared in this infomercial for his series of exercise tapes called Spiral Fitness. This was meant to capitalize on the 'Crazy Device + B-List Celebrity' fitness craze back in the '90s, like the Thighmaster or the Total Gym. Unfortunately, David was a bit too short on funds to manufacture a decent crazy device, so he used what appears to be either a short length of garden hose or a large rubber dildo instead.
Watch about one minute in when, after witnessing Carradine flail about in a backyard for far too long, the camera angles switch and accidentally catch somebody's dog in the scene. The dog, following its keen canine instinct to avoid shame, promptly runs off camera, leaving David alone again to tell you all about how this bright green dildo really makes him want to move.